News
Pelosi Reportedly Planning Next Move if GOP Takes the House Majority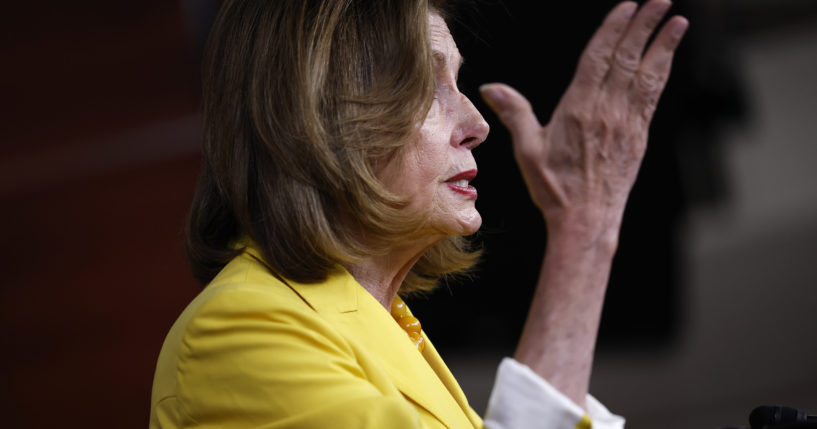 House Speaker Nancy Pelosi (D-Calif.) has an idea of what she might want to do next if Republicans take the House majority in the upcoming midterm elections, according to a report.
Sources told Fox News that Pelosi would like President Joe Biden to "nominate her to become the next U.S. ambassador to Italy" if Republicans are declared victorious in November.
According to sources, the president is holding the spot open for Pelosi, as Fox News reported.
Advertisement - story continues below
The outlet noted there has been "mixed reaction" to Pelosi in the role.
Still, earlier this month, Pelosi appeared confident when it comes to the upcoming midterm elections, as IJR reported.
"I know we're not here in a political venue. So, I hesitate to go too far down the path. But you asked, two of you asked. And we have absolutely every intention of holding the House," Pelosi said during a press conference with Rep. Joe Neguse (D-CO).
In case you missed it:
Advertisement - story continues below
Pelosi Makes Bold Midterm Prediction When Pressed By Reporters: 'We Have Absolutely Every Intention Of Holding The House' https://t.co/lpuWunHV75 via @mediaite pic.twitter.com/eYfFs2rpTK

— Tommy moderna-vaX-Topher (@tommyxtopher) September 1, 2022
The president embarked on a Labor Day tour in two battleground states, giving speeches in Milwaukee and Pittsburgh.
Would Pelosi perform well in this role?
During his speech in Wisconsin, Biden took aim at Sen. Ron Johnson (R-Wisc.).
"This guy never stops," Biden said.
He added, "But guess what? I ain't stopping, either."
Advertisement - story continues below
Biden later continued, "To this day, MAGA Republicans in Congress defend the mob that stormed the Capitol. People died there. Senator Johnson said it was by and large a peaceful protest. Have you seen the videos of what happened that day?"
The president's appearance in Pennsylvania drew mockery after Twitter users pointed out the small crowd in attendance, as IJR reported.
Last week, a Wall Street Journal national poll indicated that Democrats are in the lead over Republicans on the generic congressional ballot.
Forty-seven percent reported that they would back a Democratic candidate if the election were held today.
Advertisement - story continues below
Republicans only received 44% support.
However, a Politico forecast claims Republicans will likely take the House.
Truth and Accuracy
We are committed to truth and accuracy in all of our journalism. Read our editorial standards.
Comment Down Below
Conversation