Pelosi Shares Whether She Will Commit To Holding a Vote on Bill To Expand Supreme Court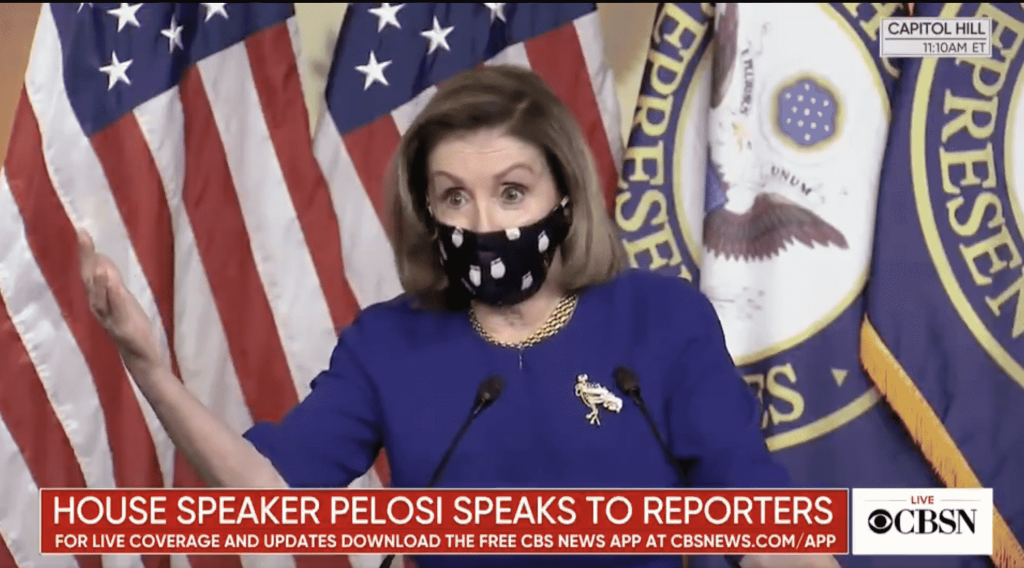 House Speaker Nancy Pelosi (D-Calif.) says she does not plan to hold a vote on a bill that would expand the number of justices on the Supreme Court from nine to 13.
During her weekly press conference on Thursday, Pelosi was asked if she supports the bill and whether she would commit to holding a floor vote on the proposal.
"No," she responded. "I support the president's commission to study such a proposal. But frankly, I'm not… Right now, we're back, our members, our committees are putting together the infrastructure bill and the rest."
She continued, "I don't know that that's a good idea or a bad idea. I think it's an idea that should be considered, and I think the president's taking the right approach to have a commission study such a thing. It's a big step."
"It's not out of the question. It has been done before in the history of our country a long time ago. And the growth of our country, the size of our country, the growth of our challenges in terms of the economy, etc., might necessitate such a thing. But, in answer to your question, I have no plans to bring it to the floor."
Watch the video below:
Pelosi says she doesn't support bill from House Democrats to expand the Supreme Court by four seats, and is not planning to bring it to the House floor https://t.co/Y4YbBtohNE pic.twitter.com/DkLfrtoPI8

— CBS News (@CBSNews) April 15, 2021
A group of Congressional Democrats led by House Judiciary Chairman Jerrold Nadler (D-N.Y.) and Sen. Ed Markey (D-Mass.) has crafted legislation that would increase the number of justices on the Supreme Court from nine to 13. The last time Congress changed the number of justices on the court was 1869.
The legislation comes roughly a week after President Joe Biden established a commission to study the "principal arguments in the contemporary public debate for and against Supreme Court reform," which includes increasing the number of justices on the court.
Calls to increase the number of justices bubbled up as Republicans moved to confirm Amy Coney Barrett to the Supreme Court to fill the late-Justice Ruth Bader Ginsburg's seat just weeks before the 2020 presidential election.
While Biden said during the campaign that he is "not a fan" of increasing the number of justices, he claimed the court is "getting out of whack" and said he would establish a commission to examine ways to reform the court.
"The last thing we need to do is turn the Supreme Court into just a political football, whoever has the most votes gets whatever they want," he said in October, adding, "Presidents come and go. Supreme Court justices stay for generations."