Pence Smacks Down Push To Invoke 25th Amendment: Not 'in the Best Interest of Our Nation'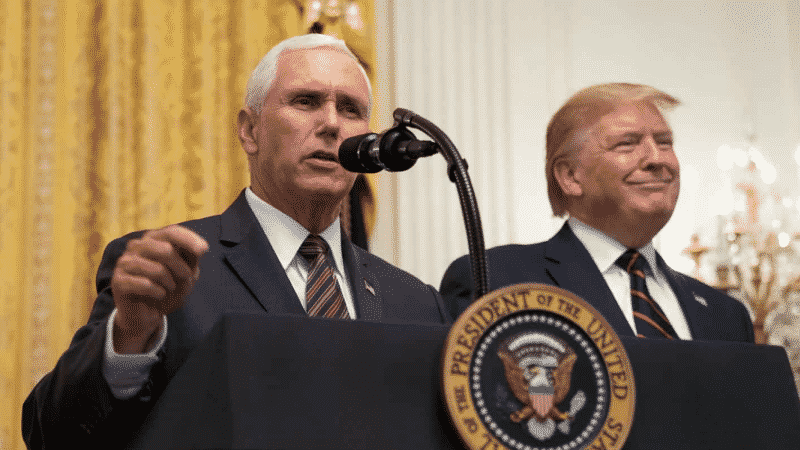 Vice President Mike Pence does not support invoking the 25th Amendment, which would remove President Donald Trump and put him in charge until President-elect Joe Biden's inauguration.
Pence penned a letter to House Speaker Nancy Pelosi (D-Calif.) on Tuesday, where he wrote, "With just eight days left in the President's term, you and the Democratic caucus are demanding that the Cabinet and I invoke the 25th Amendment. I do not believe that such a course of action is in the best interest of our nation or consistent with our Constitution."
Noting he did not "yield to pressure" last week to help Trump overturn the election results, Pence added, "I will not now yield to efforts in the House of Representatives to play political games at a time so serious in the life of our Nation."
See Pence's full letter below:
BREAKING: In a letter to Speaker Pelosi, VP Pence says he will not invoke the 25th Amendment.

"I do not believe that such a course of action is in the best interest of our Nation or consistent with our Constitution," he says. pic.twitter.com/pLRuKlLEHc

— NBC News (@NBCNews) January 13, 2021
The vice president called for the country to "come together" and "heal" after the "tragic event of January 6" where protesters stormed the U.S. Capitol, which resulted in at least five deaths from the riot.
Pence continued in his letter to Pelosi:
"I urge you and every member of Congress to avoid actions that would further divide and inflame the passions of the moment. Work with us to lower the temperature and unite our country as we prepare to inaugurate President-elect Joe Biden as the next President of the United States."
The House of Representatives approved a resolution on Tuesday evening — after Pence's letter — calling for the 25th Amendment to be invoked.
The resolution formally calls for the vice president "to immediately use his powers under section 4 of the 25th Amendment to convene and mobilize the principal officers of the executive departments in the Cabinet to declare what is obvious to a horrified nation: That the President is unable to successfully discharge the duties of his office."
The House is expected to vote to impeach Trump, accusing him of "incitement of insurrection," on Wednesday, following the U.S. Capitol riot. If passed, this would be the second time the House impeached Trump. At least five House Republicans have expressed support for Trump's impeachment.
Trump told reporters on Tuesday that his speech before the U.S. Capitol riot was "totally appropriate." He called impeachment efforts "absolutely ridiculous." The president also suggested during a speech in Alamo, Texas, "The 25th Amendment is of zero risk to me."