News
Pennsylvania Man Charged Following Incident With Biden Stickers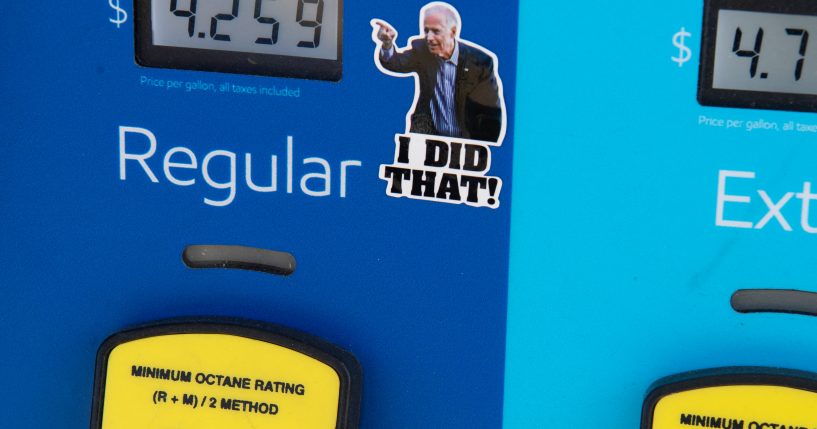 A Pennsylvania man is facing charges after placing stickers of President Joe Biden on gas pumps.
According to Lancaster Online, Thomas Richard Glazewski has been charged with resisting arrest, disorderly conduct, harassment and criminal mischief.
A man named Aaron Philips recorded the arrest of Glazewski and posted it on Facebook.
Advertisement - story continues below
"MUST WATCH! Happened today at Turkey Hill located on Columbia Ave in Lancaster, PA. 03/31/22 at about 12:50PM. This guy stuck stickers on a gas pump, got yelled at by a clerk for doing so and went crazy afterwards," Glazewski wrote.
He added, "Shout out to Manor Township Police Department, East Hempfield and Manheim township for handling the situation quickly and correctly! The guy admits he stuck the stickers there, he 'chased after the camera' and got to where he is now…The build up was just him yelling and flipping out at the clerk for him putting the sticker on the pump. Enjoy."
Watch the video below:
Advertisement - story continues below
Additionally, Lancaster Online reported an employee at Turkey Hill told police Glazewski "sprayed the stickers with clear coat or something to make them more difficult to remove," citing charging documents.
A preliminary hearing will take place April 26 before District Judge Brian Chudzik.
The Patriot Products website sells "I did that!" Biden stickers, saying they are "the perfect way to tell others Biden is to blame!"
The website continues, "Just place it right next to the total amount at the pump, and watch people's reactions as they go to fill up!"
NPR reported as of Monday gas prices have reached a national average price of $4.11 a gallon, citing AAA.
Advertisement - story continues below
The White House said in a statement, "The President is committed to doing everything he can to address the pain Americans are feeling at the pump as a result of Putin's Price Hike."
The statement continues, "The Administration's strategy to spur the development of homegrown biofuels is critical to expanding Americans' options for affordable fuel in the short-term and to building real energy independence in the long-term by reducing our reliance on fossil fuels."
Biden is expected to announce Tuesday the administration will temporarily allow E15 gasoline to be sold this summer.
NPR noted E15 gasoline uses a 15% ethanol blend that is typically banned from being sold from June to September.
Advertisement - story continues below
According to Fox News, E15 is offered at 2,300 gas stations across the United States.
Truth and Accuracy
We are committed to truth and accuracy in all of our journalism. Read our editorial standards.
Comment Down Below
Conversation