News
David Perdue Says He Would Not Have Certified Georgia's 2020 Election Results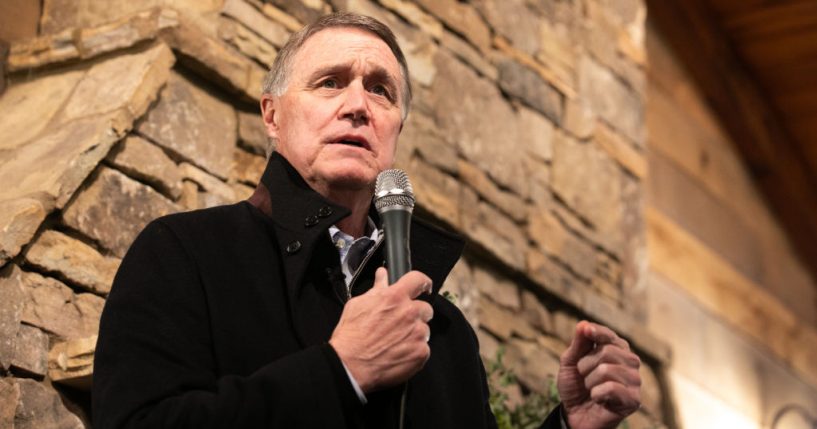 Republican Georgia gubernatorial candidate David Perdue says he would not have certified the state's presidential results until an investigation into allegations of fraud was conducted had he been governor.
Speaking to Axios, Perdue, a former senator, said he would not have certified the state's election results "with the information that was available at the time and not with the information that has come out now."
"They had plenty of time to investigate this. And I wouldn't have signed it until those things had been investigated, and that's all we were asking for," he added.
Advertisement - story continues below
Perdue also told Axios that he would have called a special session of the legislature to "protect and fix what was wrong for the January" run-off Senate elections.
He also noted that he "never asked for a reversal" of his election defeat in his reelection bid for the Senate.
"What I've asked for is to get this cleaned up, to make sure that our elections going forward are fair and can rebuild the confidence of people," Perdue added.
Georgia's secretary of state conducted three audits of the election results and found no evidence of fraud.
Advertisement - story continues below
Perdue announced he would launch a primary challenge of Georgia Gov. Brian Kemp (R), as IJR reported.
Last week, Stacey Abrams (D) shared that she will mount another bid for governor after her 2018 loss to Kemp.
Following Abrams' announcement, former President Donald Trump said in a statement, "Stacey 'The Hoax' Abrams has just announced that she's running for Governor of Georgia. I beat her single-handedly, without much of a candidate, in 2018. I'll beat her again."
He claimed it would be "hard" to beat Abrams if Kemp is the Republican gubernatorial nominee because of "what he did with respect to Election Integrity and two horribly run elections, for President and then two Senate seats."
"But some good Republican will run, and some good Republican will get my endorsement, and some good Republican will WIN!" he added.
Advertisement - story continues below
The former president endorsed Perdue on Monday as he claimed Kemp has been a "very weak governor" and "can't win because the MAGA base—which is enormous—will never vote for him."
"David Perdue will eliminate the Income Tax, secure the Elections, defend the Second Amendment, support our great Farmers, get crime in Atlanta and other places under control, take care of our great Vets, and put parents back in charge of the schools," he added.
Truth and Accuracy
We are committed to truth and accuracy in all of our journalism. Read our editorial standards.
Comment Down Below
Conversation