News
Psaki Says Biden Was Engaging in 'TV Punditry' When Seemingly Calling Out Manchin, Sinema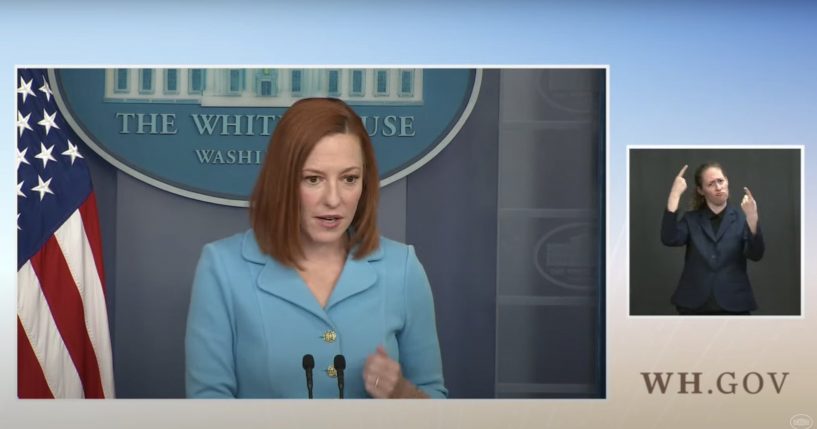 White House Press Secretary Jen Psaki is defending President Joe Biden's apparent criticism of Sens. Joe Manchin (D-W.Va.) and Kyrsten Sinema (D-Ariz.), saying he was engaging in "TV punditry." 
A reporter noted during Wednesday's press briefing Biden seemingly called out Manchin and Sinema for voting more with Republicans than Democrats. She also pointed out ProPublica found they have both voted with Biden 100% of the time since he took office.
She asked Psaki, "Can you explain where those comments came from and why he felt the need to call out members of his own party." 
Advertisement - story continues below
Psaki replied, "If Senator Manchin or Senator Sinema were standing here today … they would call out their own independent streaks. That's something I think they're both proud of."
Watch her comments below (starting at 00:59:30):
She continued, "What the president was simply conveying is that his threshold, his litmus test, is not to see eye to eye on every single detail of every issue."
Advertisement - story continues below
Suggesting Biden is "open to many paths forward," Psaki added, "I don't think he was intending to convey anything other than a little bit of commentary on TV punditry."
She also claimed Biden's comments were not "conveying a new position on his view on the filibuster."
During his speech commemorating the 100th anniversary of the Tulsa Race Massacre, Biden said, "I hear all the folks on TV saying, 'Why doesn't Biden get this done?'"
He continued, "Well, because Biden only has a majority of effectively four votes in the House, and a tie in the Senate, with two members of the Senate who vote more with my Republican friends."
Truth and Accuracy
We are committed to truth and accuracy in all of our journalism. Read our editorial standards.
Conversation