News
Watch: Psaki Confronted About Biden's Past Support of Policy Similar to Florida's 'Don't Say Gay' Bill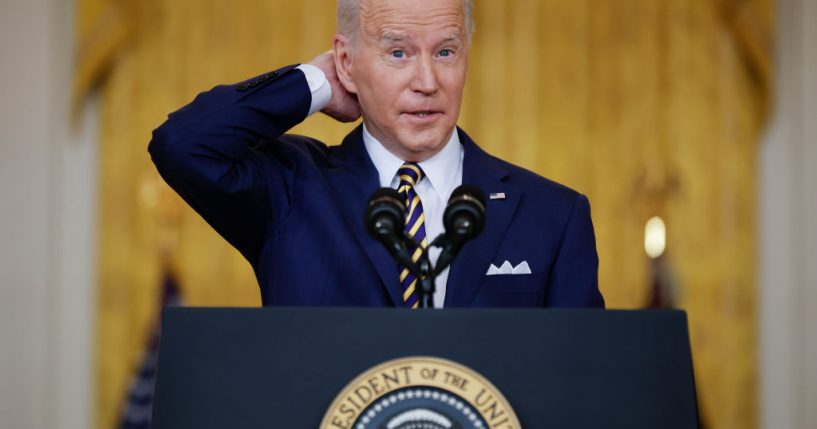 White House Press Secretary Jen Psaki was asked why President Joe Biden once supported a policy similar to Florida's so-called "Don't Say Gay" bill while he was in the Senate.
During a press briefing on Wednesday, Psaki was asked by the New York Post's Steven Nelson, "In 1994, when many of us in this room were in school, President Biden actually voted for a much broader restriction that banned federal funds from being used for being for 'the promotion of homosexuality as a positive lifestyle alternative. Why did he do that? And can you describe how his thinking has evolved over the years?"
"I think that you have seen the president speak passionately about his view that a bill like this… it's discriminatory. It's a form of bullying. It is horrific," Psaki responded.
Advertisement - story continues below
She continued, "In terms of his views and comments from 25 years ago, I think the most important question now is why are Florida leaders deciding they need to discriminate against kids who are members of the LGBTQI community? What prompts them to do that? Is it meanness? Is it wanting to make kids have more difficult times in school?"
Watch the video below:
White House Press Sec. Jen Psaki on Florida bill that bans lessons about sexual orientation and gender identity in kindergarten through grade 3:

"It's discriminatory. It's a form of bullying. It is horrific." pic.twitter.com/HIgZKsgeal

— Breaking911 (@Breaking911) March 9, 2022
However, the answer did not satisfy Nelson, who asked, "Is there a reason he supported the same policy though in the 90's when we were all in school?"
Advertisement - story continues below
"I think what's important to note here is how outspoken the president has been against discrimination," Psaki responded. "And what we're looking at here is a bill that would propagate misinformed hateful policies."
The exchange referred to Florida's controversial Parental Rights in Education bill, which passed both chambers of the state legislature.
It would ban "classroom instruction by school personnel or third parties on sexual orientation or gender identity" in schools from kindergarten through third grade.
Critics of the bill labeled it the "Don't Say Gay" bill — although the bill does not ban the word "gay" nor is the word "gay" mentioned in the bill.
Last month, Biden called it a "hateful" bill and added, "I have your back, and my Administration will continue to fight for the protections and safety you deserve."
Truth and Accuracy
We are committed to truth and accuracy in all of our journalism. Read our editorial standards.
Comment Down Below
Conversation