News
Psaki Declines To Call Texas Dems' Trip To DC a Super-Spreader Event After Several Positive COVID-19 Tests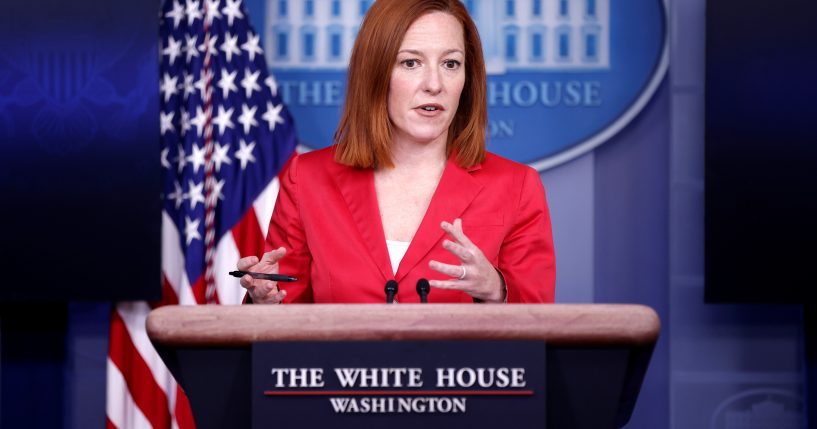 White House Press Secretary Jen Psaki is not calling a trip by Texas Democrats to Washington, D.C., a super-spread event after several tested positive for COVID-19.
Fox News' Peter Doocy asked Psaki on Tuesday, "More than 10% of the traveling party with these Texas Democrats now claim to have a breakthrough case, is there any concern that this trip that was intended to advocate for voting rights is now a super-spreader event in Washington?"
"Well, I would say that's not a characterization we're making from here," she said, adding, "We certainly understand there will be breakthrough cases. Even vaccines that are incredibly effective are not foolproof. They're not 100% effective. We've seen that."
Advertisement - story continues below
She went on to note that the lawmakers are believed to have gotten vaccinated against the virus and are less likely to experience severe symptoms.
Doocy asked, "Now that COVID-19, after contact with those Democrats, has reached the White House, what is your message to these Texas Democrats?"
"Our message continues to be, thanks for standing up for voting rights and the rights of Americans to have their voices heard at the voting booth, and we appreciate their efforts in that regard," Psaki said.
Watch the video below:
Advertisement - story continues below
WH Press Sec. Jen Psaki thanks Texas Democrats for coming to D.C. to advocate for voting rights after Fox News WH correspondent Peter Doocy tries to frame it as a "superspreader event" because of breakthrough cases. pic.twitter.com/4KJJhkrtTy

— The Recount (@therecount) July 20, 2021
Last week, more than 50 Texas Democratic lawmakers left the state in an effort to block a controversial voting law and encourage the U.S. Senate to pass sweeping election reform bills.
At least six lawmakers have tested positive for the virus since leaving the state.
Additionally, an aide to House Speaker Nancy Pelosi (D-Calif.), who is fully vaccinated, tested positive for the virus after meeting with the Texas Democrats, and a White House staffer who is also vaccinated tested positive as well.
The Hill reports that "neither individual had close contact with President Biden or Pelosi." The two staffers reportedly both attended an event in Washington, D.C., last week.
Advertisement - story continues below
Vice President Kamala Harris, who met with the Texas lawmakers last week, tested negative for the virus, the White House said on Monday.
Truth and Accuracy
We are committed to truth and accuracy in all of our journalism. Read our editorial standards.
Comment Down Below
Conversation