News
Psaki: Troop Withdrawal From Afghanistan Not Going To Be a 'Mission Accomplished Moment'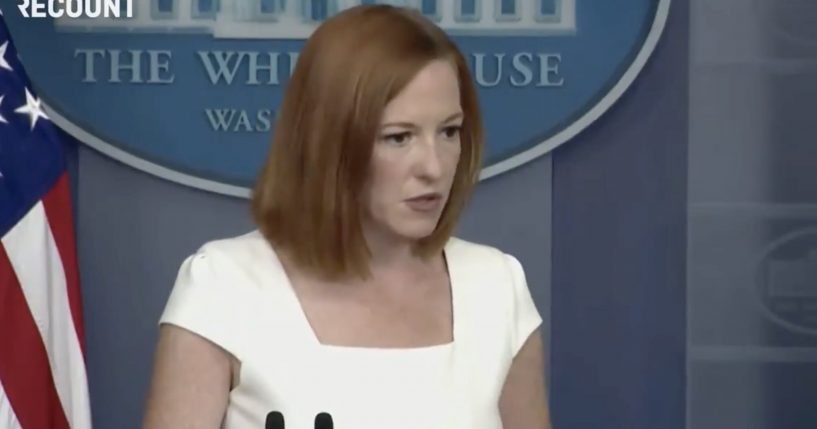 White House Press Secretary Jen Psaki says the near-complete withdrawal of American troops from Afghanistan will not be a "mission accomplished moment."
She said during a White House press briefing Thursday, "We're not going to have a mission accomplished moment in this regard. It's a 20-year war that has not been won militarily. We are proud of the men and women who have served, incredibly grateful."
Psaki continued, "The president will note that in his remarks today, how grateful he is for their service and the families who have sacrificed over the last 20 years and we will continue to press for a political outcome and a political solution."
Advertisement - story continues below
Watch part of the press briefing below:
"We're not going to have a mission accomplished moment."

— WH Press Sec. Jen Psaki on troop withdrawal from Afghanistan. pic.twitter.com/t4Zh6qWVCo

— The Recount (@therecount) July 8, 2021
According to White House officials, President Joe Biden will detail U.S. security and humanitarian assistance that will take place after troops leave, as CNN reports.
Senior administration officials also said Biden is planning on addressing the Afghans who helped the United States during the war and are now waiting for U.S. visa applications.
Advertisement - story continues below
Earlier this month, Biden was asked about Afghanistan possibly falling to the Taliban once U.S. troops fully left.
"I want to talk about happy things, man," Biden said.
Do you support the troop withdrawal from Afghanistan?
When asked about the issue again, Biden replied, "I'm not gonna answer any more questions on Afghanistan. Look, it's Fourth of July [weekend]."
He added, "You guys are asking me questions that I'll answer next week. But this is a holiday weekend. I'm going to celebrate it. There's great things happening."
The president went on to touch on the economy, explaining, "We've got a record number of new jobs. COVID deaths are down 90%. Wages are up faster than anytime in 15 years. We're bringing our troops home. We have all across America people who are going to ballgames and doing good things."
Advertisement - story continues below
He proceeded to tell reporters, "I'll answer all of your negative questions, not negative — your legitimate questions — [next week]."
Truth and Accuracy
We are committed to truth and accuracy in all of our journalism. Read our editorial standards.
Conversation