News
Republicans Question Milley on Whether Progressive Military Agenda Is Being Prioritized Over Recruiting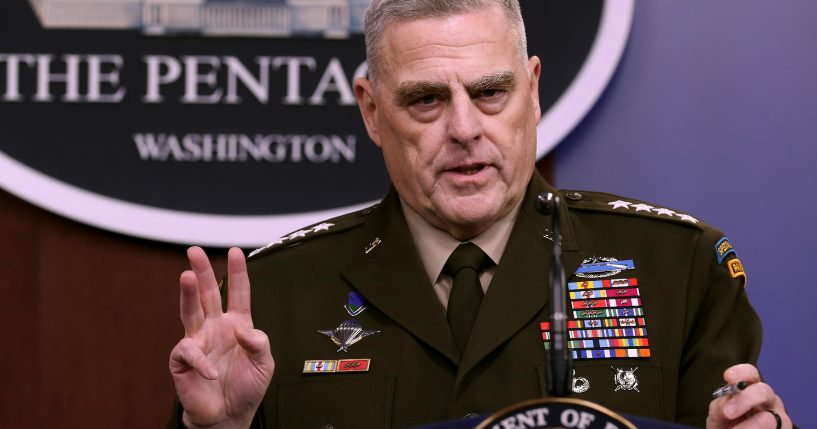 Republicans are expressing their concerns over the military's agenda, suggesting the focus is being directed away from "lethality."
Republicans on the Senate Armed Services Committee penned a letter to Gen. Mark Milley, the chairman of the Joint Chiefs of Staff, claiming recruiting is taking a back seat.
"At each hearing of the Senate Armed Services Committee, we acknowledge that the world is a more dangerous place than ever in our lifetime and reaffirm our committee's steadfast support for the 2018 National Defense Strategy," the senators wrote in the letter obtained by The Hill.
Advertisement - story continues below
They continued, "Yet today, efforts to recruit, train, and equip a ready and lethal force often appear to take a back seat to the Department of Defense's (DOD) 'Climate Adaptation Plan,' 'Countering Extremism Working Group,' and discussions of critical race theory. DOD touts its 'Climate Adaptation Plan,' while a viable counterterrorism strategy in lieu of our presence in Afghanistan after a chaotic exit goes wanting."
The outlet notes the Republicans also voiced opposition to an initiative designed to identify domestic terrorists and white supremacists within the military.
"All this is taking place despite clear data that pegs the number of extremists in our military as minuscule," the Republicans wrote.
They added, "Several members of the Senate Armed Services Committee have solicited feedback directly from service members about the working group and have also shared growing concern about the focus directed towards social issues and away from lethality."
Advertisement - story continues below
According to The Hill, Republicans asked Milley to provide a cost breakdown of the initiatives no later than November 8.
The military recently received criticism over its priority to increase diversity, as IJR previously reported.
"It is not too soft. It will never be too soft. I think our adversaries would like to capitalize on talking points like that or the Chinese, the Russians," U.S. Secretary of Defense Lloyd Austin said during a CNN interview in May.
He continued, "I welcome them to do that because what this department, what Lloyd Austin is focused on is the defense of our nation."
Truth and Accuracy
We are committed to truth and accuracy in all of our journalism. Read our editorial standards.
Conversation