Commentary
Look Back: A Review of Biden's Shifting Talking Points on Inflation Over the Past Year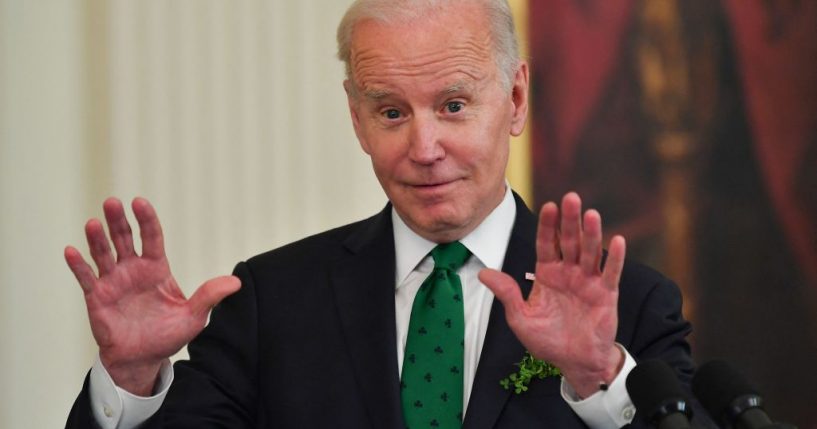 Exclusive
There are many times in life when people would be happy if something exceeds expectations.
Some examples include employee performance, stocks, product performance, or how far your electric car can go on a single charge.
But one thing that won't fall under the list of items people like to see exceed expectations is inflation.
Advertisement - story continues below
Over the past year, price increases have continually hit 40-year-highs, costing Americans hundreds of dollars extra per month. When prices increase dramatically, people tend to demand and deserve an explanation.
And President Joe Biden sure has had a lot of scapegoats and explanations over the past year.
Let's review some of those:
July 19, 2021: Unchecked Inflation is Not On The Way
Advertisement - story continues below
Almost a year ago, Biden sought to downplay the idea that inflation would explode and be "unchecked." In fact, he claimed that no one was suggesting that would happen.
"My administration understands that if we were to ever experience unchecked inflation over the long term, that would pose real challenges to our economy. So while we're confident that isn't what we are seeing today, we're going to remain vigilant about any response that is needed," Biden said.
When asked what he would consider "unchecked" inflation, the president said, "There's nobody suggesting there's unchecked inflation on the way — no serious economist. That's totally different."
He also insisted that price increases would be temporary.
The inflation rate in July was 5.4%
Advertisement - story continues below
December 2021: Greedy Meat 'Conglomerates'
Then-White House Press Secretary Jen Psaki blamed soaring meat prices on "corporate greed."
"So, for example, the president, the secretary of Agriculture have both spoken to what we've seen as the greed of meat conglomerates," she said, adding, "That is an area – one where people go to the grocery store, and they're trying to buy a pound of meat, two pounds of meat, 10 pounds of meat, it is – the prices are higher."
She added, "You could call it 'corporate greed.' Sure. You could call it 'jacking up prices during a pandemic.'"
Advertisement - story continues below
More recently, in June, Biden appeared to blame high gas prices on corporate greed as well. 
Jan 2022: The Country is Making Progress on Slowing Price Increases
Biden reacted to the December inflation report by claiming in a statement, "Today's report—which shows a meaningful reduction in headline inflation over last month, with gas prices and food prices falling—demonstrates that we are making progress in slowing the rate of price increases."
The inflation rate in December was 7%.
Advertisement - story continues below
February 2022: Putin Price Hike
In February, Biden found a new scapegoat for inflation in Russian President Vladimir Putin.
And administration officials quickly began blaming price increases on the "Putin Price Hike" after Russia invaded Ukraine.
In an April statement, the president said, "We saw in today's inflation data: 70% of the increase in prices in March came from Putin's price hike in gasoline. We need to address this challenge with an urgency that it demands."
Advertisement - story continues below
And in June, Biden tried to put a little spin on his talking point as he called higher gas and food prices the result of "Putin's tax."
June 2022: Republicans
During a June speech at the convention of the AFL-CIO federation of labor unions, the president said he had plans to bring down prices, but Republicans were blocking them.
"Republicans in Congress are doing everything they can to stop my plans to bring down costs on ordinary families. That's why my plan is not finished and why the results aren't finished either," he claimed.
Advertisement - story continues below
In June, inflation hit 9.1%.
Inflation did not start with Biden, as Reuters has previously pointed out, it is in part the result of spending packages passed under the prior administration.
But while some economists say Biden's $1.9 trillion COVID-19 relief package added to inflation, he has argued that his policies have helped and have not fueled inflation. 
Truth and Accuracy
We are committed to truth and accuracy in all of our journalism. Read our editorial standards.
Comment Down Below
Conversation