News
Riley Keough, Daughter of Lisa Marie Presley, Secretly Welcomed a Baby Last Year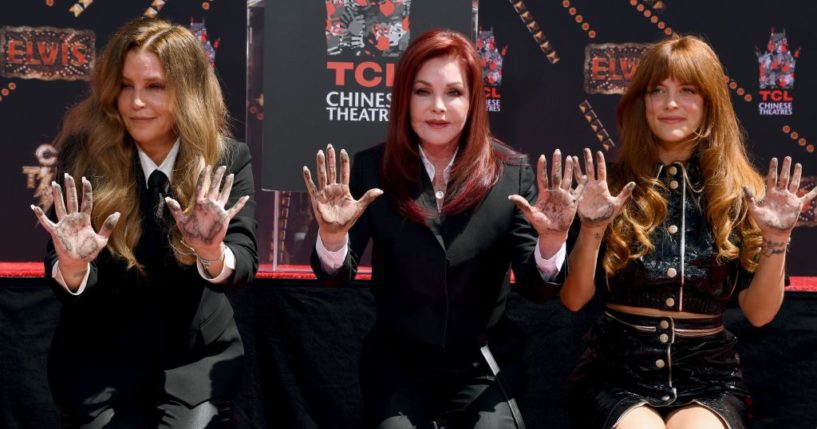 Riley Keough, daughter of the late Lisa Marie Presley, revealed she is now a mother to a baby girl.
Her husband, Ben Smith-Petersen, shared the news in a speech on her behalf, during her mother's public memorial service on Sunday morning.
"I hope I can love my daughter the way you loved me, the way you loved my brother and my sisters. Thank you for giving me strength, my heart, my empathy, my courage, my sense of humor, my manners, my temper, my wildness, my tenacity. I'm a product of your heart, my sisters are a product of your heart, my brother is a product of your heart," he said reading Keough's words.
Advertisement - story continues below
He added, "We are you. You are us. My eternal love I hope you finally know how loved you were here."
The couple have been married since 2015 and welcomed their daughter in 2022, according to a representative for Riley Keough.
Lisa Marie Presley — the only child of Elvis and Priscilla Presley —  died on Jan. 12, 2023 after going into cardiac arrest. She was 54 years old.
Advertisement - story continues below
Priscilla Presley confirmed the news of her passing in a statement to People.
"It is with a heavy heart that I must share the devastating news that my beautiful daughter Lisa Marie has left us. She was the most passionate strong and loving woman I have ever known. We ask for privacy as we try to deal with this profound loss," she said.
In an interview with Health Living Magazine in 2014, Lisa Marie Presley spoke about being "ferociously protective" as a mother.
"I am very protective. I just smother them in love and I am also ferociously protective.They are my priority. That's what I do. That's what I care most about," she shared.
On Jan. 20, Riley Keough, 33, paid tribute to her mother on her Instagram page posting a red heart emoji in the caption of a throwback photo of the mother-daughter duo together.
Advertisement - story continues below
She will inherit the Graceland Estate along with her 14-year-old twin half-sisters Finley and Harper Lockwood.
Truth and Accuracy
We are committed to truth and accuracy in all of our journalism. Read our editorial standards.
Comment Down Below
Conversation