News
RNC Announces Plans to Prohibit GOP Presidential Candidates From Attending Commission Debates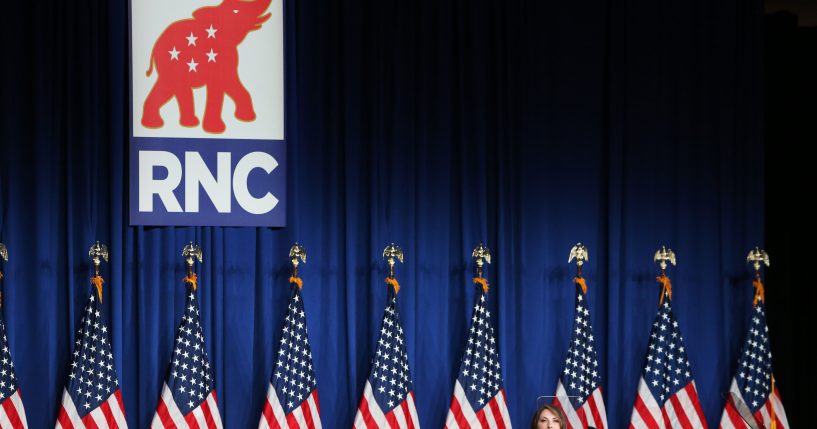 The Republican National Committee (RNC) announced plans to require presidential candidates to avoid debates sponsored by the Commission on Presidential Debates (CPD).
Chairwoman Ronna McDaniel said in the letter obtained by The Hill, "The RNC will initiate the process of amending the Rules of the Republican Party at our upcoming Winter Meeting to prohibit future Republican nominees from participating in CPD-sponsored debates."
According to the letter, Republican voters have "lost trust" in the commission. McDaniel also pointed out the RNC has proposed ways to reform the process, as The Hill reports.
Advertisement - story continues below
"Unfortunately, neither the tone nor substance of your latest response inspires confidence that the CPD will meaningfully address the serious issues which the RNC has raised," she wrote.
The commission responded, telling Fox News, "The CPD deals directly with candidates for President and Vice President who qualify for participation in the CPD's general election debates. The CPD's plans for 2024 will be based on fairness, neutrality and a firm commitment to help the American public learn about the candidates and the issues."
In September of 2020, the commission announced it was considering format changes for future debates following the debate between President Joe Biden and former President Donald Trump.
"Last night's debate made clear that additional structure should be added to the format of the remaining debates to ensure a more orderly discussion of the issues," the CPD said in a statement.
Advertisement - story continues below
It continued, "The CPD will be carefully considering the changes that it will adopt and will announce those measures shortly."
Before the final debate between Biden and Trump, the commission said in a statement it would mute microphones during parts of it.
"We realize, after discussions with both campaigns, that neither campaign may be totally satisfied with the measures announced today," the commission said.
It added, "One may think they go too far, and one may think they do not go far enough. We are comfortable these actions strike the right balance, and that they are in the best interest of the American people, for whom these debates are held."
Truth and Accuracy
We are committed to truth and accuracy in all of our journalism. Read our editorial standards.
Comment Down Below
Conversation