News
'Almost Treasonous': Romney Denounces 'Pro-Putin Sentiment' Among Some Republicans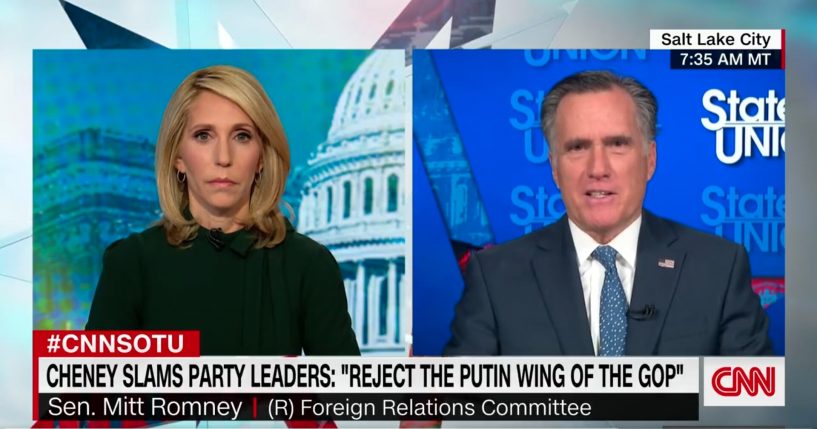 Sen. Mitt Romney (R-Utah) believes that positive comments by some Republicans about Russian President Vladimir Putin are bordering on treason.
During an appearance on CNN's "State of the Union" Sunday, Romney was asked the "pro-Putin sentiment" among "some corners" of the Republican Party.
"A lot of those people are changing their stripes as they're seeing the response of the world, and the political response here in the U.S.," Romney responded.
Advertisement - story continues below
He continued, "But how anybody, how anybody in this country which loves freedom can side with Vladimir Putin [who] is an oppressor, a dictator, he kills people, he imprisons his political opponents, he has been an adversary of America at every chance he's had, it's unthinkable for me. It's almost treasonous. And it just makes me ill to see some of these people do that."
"But of course, they do it because they think it's shock value, and it's going to get them more eyeballs and maybe make a little more money for them or their network. It's disgusting. And I'm hopeful that you're seeing some of those people recognize just how wrong they were," he added.
Watch the video below:
"It's unthinkable to me. It's almost treasonous. And it just makes me ill to see some of these people do that." – Sen. Mitt Romney reacts to pro-Putin sentiments from GOP members and some media outlets: https://t.co/S6ESuaj46b #CNNSOTU pic.twitter.com/ZPDC3bGMgI

— State of the Union (@CNNSotu) February 27, 2022
Advertisement - story continues below
When asked if former President Donald Trump's claim that Putin's invasion of Ukraine is "smart" would fall into the "almost treasonous" category, Romney did not directly answer.
However, he said, "Standing up for freedom is the right thing to do in America, and anything less than that, in my opinion, is unworthy of American support."
Do you agree with Romney?
Romney's comments come after Reps. Marjorie Taylor Greene (R-Ga.) and Paul Gosar (R-Ariz.) spoke at a white nationalist conference. Nick Fuentes, the organizer of the event, has expressed pro-Putin views and has been labeled a white supremacist by the Department of Justice.
Greene later denounced Putin's invasion of Ukraine and said she did not know about Fuentes' views.
Truth and Accuracy
We are committed to truth and accuracy in all of our journalism. Read our editorial standards.
Comment Down Below
Conversation