Romney: 'It's Pretty Clear' Trump's Senate Impeachment Trial Is Constitutional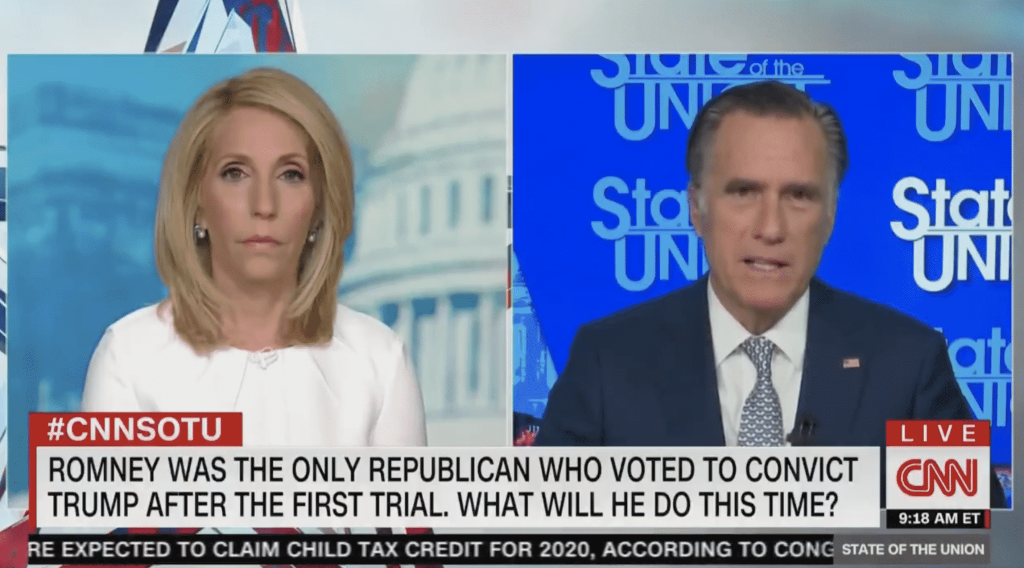 Sen. Mitt Romney (R-Utah) is certain the Senate's impeachment trial of former President Donald Trump is constitutional.
CNN's Dana Bash noted several of Romney's colleagues are arguing it is not constitutional to convict a president who has left office.
She asked Romney if he agrees.
"I'll, of course, hear what the lawyers have to say for each side, but I think it's pretty clear that the effort is constitutional," Romney said.
Bash went on to ask Romney if it was appropriate Trump was impeached by the House.
"I believe that what is being alleged and what we saw, which is incitement to insurrection, is an impeachable offense. If not, what is?" Romney continued.
Watch his comments below:
"It's pretty clear that the effort is constitutional," Mitt Romney says of the upcoming Senate impeachment trial.

He adss that it was appropriate that the House impeached Trump as "incitement to insurrection is an impeachable offense." pic.twitter.com/b3EQDGkbhj

— Justin Baragona (@justinbaragona) January 24, 2021
He accused Trump of "firing up" a crowd and encouraging them to march down to the U.S. Capitol at the same time lawmakers were certifying the Electoral College results.
"These allegations are very serious. They haven't been defended yet by the president. He deserves a chance to have that heard. I think it's important for us to go through the normal justice process and for there to be resolution," Romney added.
Senate Majority Leader Chuck Schumer (D-N.Y.) announced the trial will begin during the week of Feb. 8, as IJR reported.
"During that period, the Senate will continue to do other business for the American people, such as Cabinet nominations and the COVID relief bill which would provide relief for millions of Americans who are suffering during this pandemic," Schumer said during a speech on the Senate floor.
A spokesman for Senate Minority Leader Mitch McConnell (R-Ky.) said he was satisfied with the timeline.
"This is a win for due process and fairness," Doug Andres said.
House Speaker Nancy Pelosi (D-Calif.) was pressed on whether impeaching Trump would undermine the message of unity, as IJR reported.
"I'm not worried about that," Pelosi said.