News
Sarah Huckabee Sanders Signs School Bathroom Bill: 'No Place' for the 'Woke Agenda'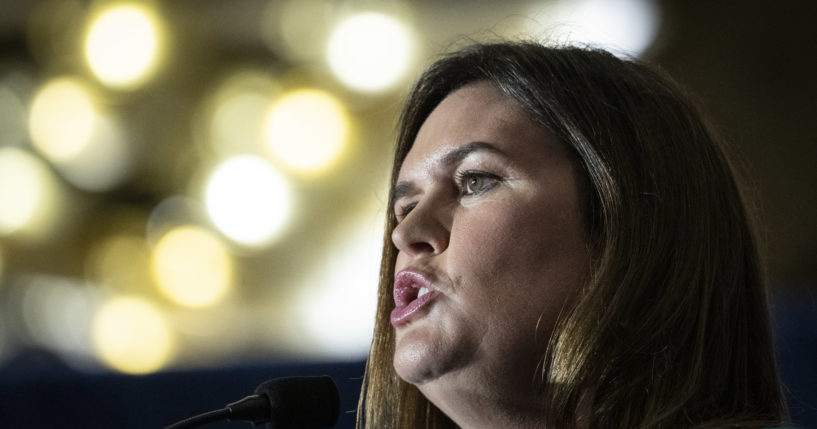 Arkansas Gov. Sarah Huckabee Sanders (R) took action to prohibit biological males from using women's bathrooms in public schools.
KSAT reported the law Sanders signed Tuesday bans transgender individuals from using bathrooms in public schools they say matches their gender identity.
The bill establishes Arkansas as the fourth state to enact these types of restrictions on bathrooms.
Advertisement - story continues below
The outlet noted the bill could have come before another Arkansas bill that would prohibit transgender adults from using public restrooms that also match their gender identity.
According to the report, the bill will take effect later this summer.
"The Governor has said she will sign laws that focus on protecting and educating our kids, not indoctrinating them and believes our schools are no place for the radical left's woke agenda," Alexa Henning, spokesperson for Sanders, said in a statement.
She added, "Arkansas isn't going to rewrite the rules of biology just to please a handful of far-left advocates."
Advertisement - story continues below
Holly Dickson, executive director of the American Civil Liberties Union of Arkansas, issued a statement of opposition to the bill.
"It's a flagrant message from them that they refuse to respect (transgender people's) rights and humanity, to respect Arkansans' rights and humanity," Dickson said.
Eric Reece, the Human Rights Campaign's Arkansas state director, called the bill "another despicable effort by extremist politicians to alienate kids who are just trying to navigate their childhoods."
Reece explained, "Stopping kids from using bathrooms consistent with their gender identity will not do anything to create jobs, lower costs, or make life easier on Arkansas families."
He argued the bill "should have never reached the governor's desk, and she should be ashamed for signing it into law."
Advertisement - story continues below
Sanders has not been afraid to take action on issues since becoming the state's governor.
She recently signed a bill to create a "monument to the unborn" in Little Rock, as IJR reported.
The bill explains the secretary of state will "permit and arrange placement on the State Capitol grounds of a suitable monument commemorating unborn children aborted during the era of Roe v. Wade, 410 U.S. 113 (1973)."
Truth and Accuracy
We are committed to truth and accuracy in all of our journalism. Read our editorial standards.
Comment Down Below
Conversation