News
Saudi Arabia Reportedly Bans Disney Pixar's 'Lightyear'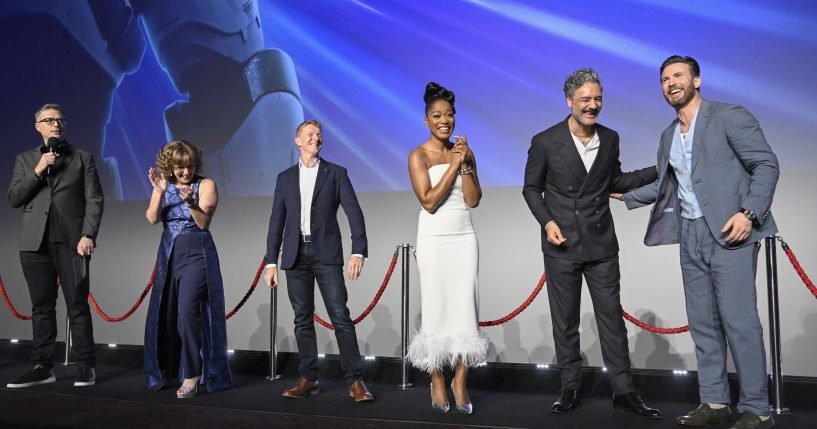 Various Middle East countries, including Saudi Arabia and the United Arab Emirates, have banned Disney Pixar's "Lightyear."
According to The Hollywood Reporter, the decision was made based off of a same-sex kiss included in the film.
The outlet explained, "The scene, involving the female character Hawthorne (voiced by Uzo Aduba) and her partner, was originally cut from the film, but reinstated following the uproar surrounding a statement from Pixar employees claiming that Disney had been censoring 'overtly gay affection' and Disney CEO Bob Chapek's handling of Florida's 'Don't Say Gay' bill."
Advertisement - story continues below
The UAE's Media Regulatory Office announced in a tweet the film is not "licensed for public screening in all cinemas in UAE, due to its violation of the country's media content standards."
Animated Film '#Lightyear' is Not Licensed to be Shown in Cinemas in #UAE@uaemro pic.twitter.com/vY4P04NlcX

— UAE Forsan (@UAE_Forsan) June 13, 2022
Additionally, the outlet pointed out "Doctor Strange in the Multiverse of Madness" was not given a theatrical release in April in the Middle East.
The outlet noted it was reportedly due to "the introduction of the character America Chavez (played by Xochitl Gomez) who, as per her portrayal in the comics, is gay."
Advertisement - story continues below
Aduba told Vanity Fair it is "incredible, and a real hats off to Disney and Pixar for having that kiss be a part of this story."
She added, "The kiss is a greeting and a gesture of love that is tender. It does establish who they are as people, but it is not the singular identifier for who either of them are. Seeing a loving gay couple in a meaningful way is important for everybody."
Actor Chris Evans, who voices Buzz Lightyear, commented on Disney reinstating the kiss.
"It's great that it's back in the film," Evans said, as Vanity Fair reported.
He continued, "I think it's a shame that it's such a story. It should be more normalized, but I'm glad we are making those steps."
Truth and Accuracy
We are committed to truth and accuracy in all of our journalism. Read our editorial standards.
Comment Down Below
Conversation