News
Scalise Calls Vaccine Mandates a 'Defund the Police Strategy'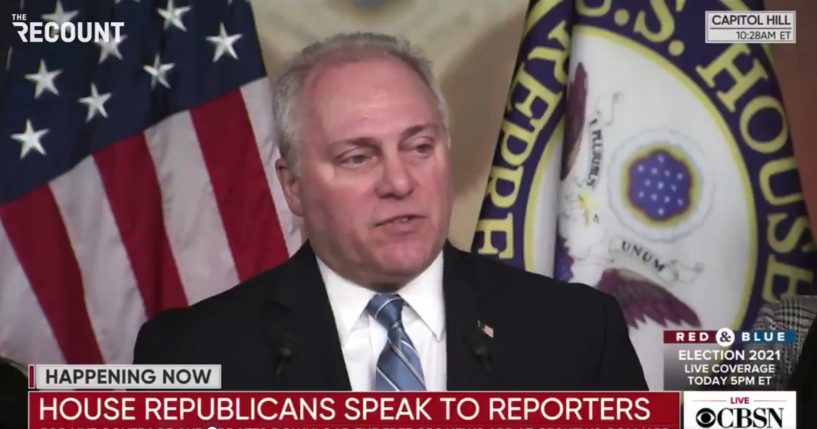 House Minority Whip Steve Scalise (R-La.) is suggesting Democrats are attempting to use COVID-19 vaccine requirements as a "Defund the Policy strategy"' despite opposition to the move from the public.
Speaking to reporters on Tuesday, Scalise said, "Don't make any mistake about it. This is part of their defunding the police strategy."
"When you look at some of the states where they know they want to defund the police, but they also know the public is against defunding the police. They know that if they put a vaccine mandate in place, about 20% or more of the police officers and firefighters will ultimately get fired because they're not vaccinated," he continued.
Advertisement - story continues below
Finally, Scalise said, "And so it's a de facto Defund the Police strategy."
Watch the video below:
House Minority Whip Steve Scalise (R-LA) claims vaccine mandates for police officers are a "de facto Defund the Police strategy." pic.twitter.com/s24Diu5Nn4

— The Recount (@therecount) November 2, 2021
The "Defund the Police" slogan gained popularity in the wake of George Floyd's death in May 2020 as protests against police brutality broke out around the country.
Advertisement - story continues below
As Vox notes, "A three-word slogan is not a detailed policy agenda, and not everyone using the slogan agrees on the details. The basic idea, though, is less that policing budgets should be literally zeroed out than that there should be a massive restructuring of public spending priorities."
Several cities moved to slash their police budgets. However, some have reversed course amid a rise in crime.
A USA Today/Ipsos poll from March 2021 found the move to cut police departments' budgets had lost support, with just 18% of Americans saying they support the movement.
Scalise's comments reference opposition to coronavirus vaccine mandates among police officers around the country.
New York City Police Commissioner Dermot Shea told NY1 that 89 unvaccinated police officers were placed on unpaid leave after the city's vaccine mandate went into effect on Monday. He added that 85% of the department has been vaccinated against the virus.
Advertisement - story continues below
Additionally, CBS News reports, "Roughly 2,300 members of the New York City Fire Department claimed they were sick and didn't show up to work on Monday as the city's COVID-19 vaccine mandate for municipal workers went into effect."
FDNY Commissioner Daniel Nigro told CBS on an average day, fewer than 1,000 members would be out sick.
Truth and Accuracy
We are committed to truth and accuracy in all of our journalism. Read our editorial standards.
Comment Down Below
Conversation