News
Schumer Vows Dems Will 'Consider Changes' to the Filibuster Rules if GOP Blocks Voting Rights Legislation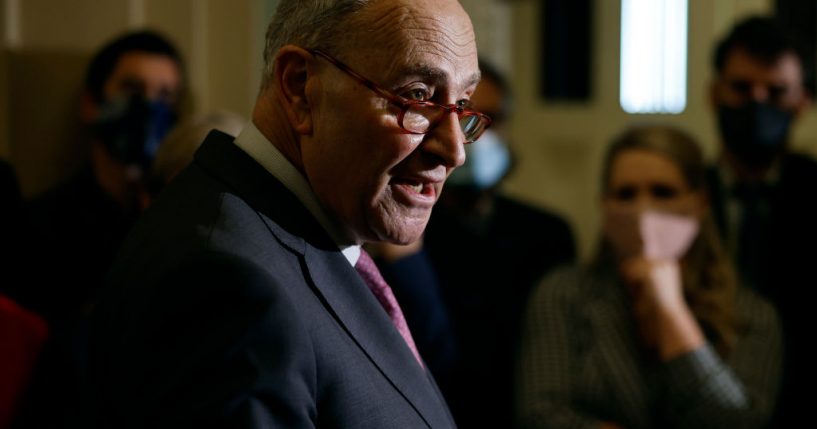 Senate Majority Leader Chuck Schumer (D-N.Y.) says Democrats will "consider" changes to the filibuster if Republicans obstruct their efforts to pass voting rights legislation.
In a "Dear Colleague" letter on Monday, Schumer decried what he called "attacks on our democracy" as he pointed to a series of laws Republican-controlled state legislatures have passed that limit mail-in voting.
"Our Caucus has fought back against these assaults, uniting behind comprehensive legislation that would address these threats to our democracy," he wrote.
Advertisement - story continues below
He continued, "Sadly, these common-sense solutions to defend our democracy have been repeatedly blocked by our Republican colleagues, who seem wholly uninterested in taking any meaningful steps to stem the rising tide of anti-democratic sentiment still being stoked by the former president today."
Schumer went on to say that the Senate was "designed to protect the political rights of the minority in the chamber." However, he claimed, "Over the years, those rights have been warped and contorted to obstruct and embarrass the will of majority – something our Founders explicitly opposed."
"We must ask ourselves: if the right to vote is the cornerstone of our democracy, then how can we in good conscience allow for a situation in which the Republican Party can debate and pass voter suppression laws at the State level with only a simple majority vote, but not allow the United States Senate to do the same?" he insisted.
Finally, Schumer wrote, "The fight for the ballot is as old as the Republic. Over the coming weeks, the Senate will once again consider how to perfect this union and confront the historic challenges facing our democracy."
Advertisement - story continues below
"We hope our Republican colleagues change course and work with us. But if they do not, the Senate will debate and consider changes to Senate rules on or before January 17, Martin Luther King Jr. Day, to protect the foundation of our democracy: free and fair elections," he added.
Due to the filibuster, most legislation needs 60 votes to pass the chamber. In an evenly divided Senate with existing rules, that means at least 10 Republicans need to join Democrats for legislation to advance.
Do you think there should be a change made to the filibuster?
Schumer's threat to consider changes to the filibuster comes as Democrats turn their attention to voting rights. Last year, Senate Republicans repeatedly blocked similar voting rights bills.
The focus on voting legislation comes after Sen. Joe Manchin (D-W. Va.) sunk Democrats' hopes of passing a massive social spending package.
In order to change the filibuster rules, Schumer would need Manchin and Sen. Kyrsten Sinema's (D-Ariz.) support. However, both senators have signaled a reluctance to changing the rule.
Truth and Accuracy
We are committed to truth and accuracy in all of our journalism. Read our editorial standards.
Comment Down Below
Conversation