News
Secret Service Reportedly Paying $30,000 per Month for 'Swanky' CA Mansion to Protect Hunter Biden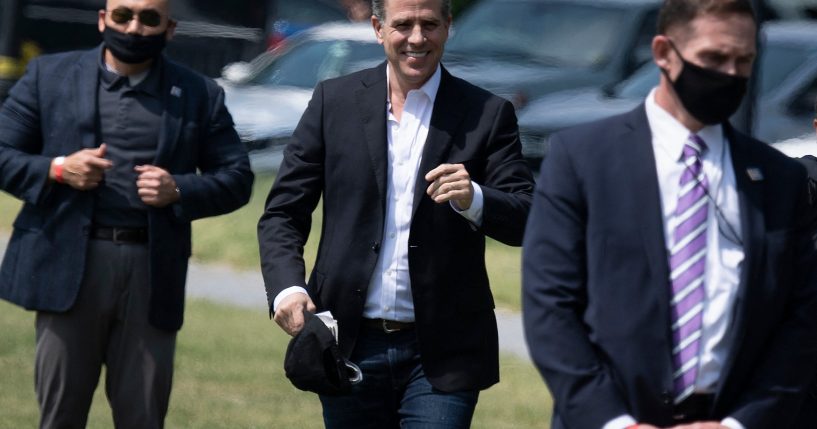 The U.S. Secret Service is reportedly paying a hefty sum for housing to protect President Joe Biden's son Hunter Biden.
ABC News reported Monday, "The Secret Service detail protecting the president's controversial son has been paying more than $30,000 a month to rent out a swanky Malibu, California, mansion for nearly a year."
According to the network, the Secret Service "selected the property in order to be located as close as possible to Biden's own rented mansion."
Advertisement - story continues below
Hunter Biden is reportedly renting a mansion for $20,000 a month.
Retired senior Secret Service agent Don Mihalek told ABC News, "Typically, wherever a protectee sets up their residence, the Secret Service is forced to find someplace to rent nearby at market value."
"This isn't new," he continued. "The Service has had to do this in past administrations, and unfortunately, the housing market right now has driven the prices up substantially."
The Secret Service told ABC, "Due to the need to maintain operational security, the U.S. Secret Service does not comment on the means, methods, or resources used to conduct our protective operations."
Advertisement - story continues below
According to ABC, the listing for the location says it has "gorgeous ocean views."
NEW: The Secret Service detail protecting Hunter Biden has been paying more than $30,000 a month for a swanky Malibu mansion close to Biden's home, sources tell @ABC News. https://t.co/EyWSkYdEM3

— ABC News (@ABC) April 4, 2022
Do you think the Secret Service should have to pay so much?
Additionally, the outlet notes, "With six bedrooms, six bathrooms, a gym, a tasting room, a built-in barbecue, a pool, a spa, and a spiral staircase that leads up to a 'castle-like tower to the master retreat with wet bar' the luxury mansion boasts 'resort style living at its finest' and is 'a perfect retreat for discerning clientele,' its listing says."
Meanwhile, Hunter Biden's rented mansion has four bedrooms and three bathrooms, a "spacious park-like yard," a pool, a spa, and a built-in barbecue bar.
While former President Donald Trump was in office, the Secret Service paid at least $1.2 million to Trump properties to carry out its protective duties.
Advertisement - story continues below
The details about Hunter Biden's living arrangement come amid a federal probe into his business dealings.
CBS News reported that the investigation into the president's son is "broader than previously known, with multiple sources telling CBS News the probe is exploring whether the younger Biden and his associates violated tax, money laundering, and foreign lobbying laws."
CNN's legal analyst Elie Honig addressed the ongoing federal investigation into Hunter Biden's business dealings on Wednesday.
"This is a very real, very substantial investigation of potentially very serious federal crimes," he said.
Advertisement - story continues below
He explained, "We are seeing federal prosecutors in Delaware do exactly what you would expect to see federal prosecutors do in this situation." 
"I would expect…they're now gaining steam, and they need to make a decision, I think, in the at least intermediate future," Honig continued.
Finally, he said, "There is a realistic chance this could result in federal charges."
"Of course, then we'd be in unprecedented political territory, not legal territory, but a situation of having potentially the Justice Department prosecuting and trying to imprison the son of the president," he added.
Truth and Accuracy
We are committed to truth and accuracy in all of our journalism. Read our editorial standards.
Comment Down Below
Conversation