News
Sheriff Says Michigan School Shooting Suspect's Parents Are 'Missing' After Charges Are Announced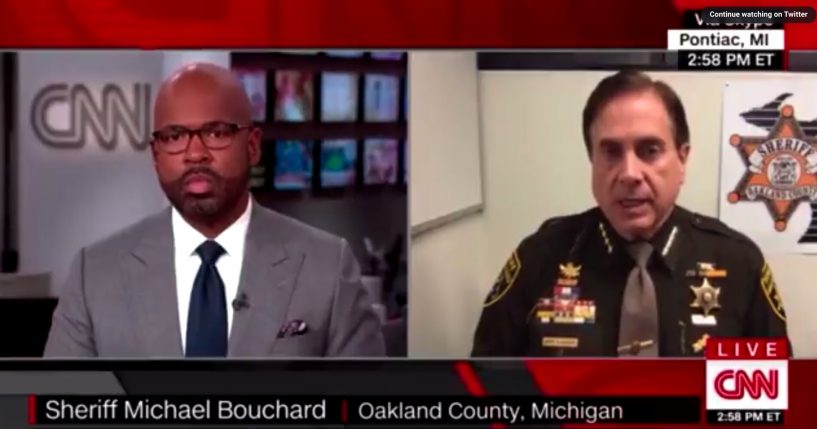 Oakland County Sheriff Michael Bouchard says the parents of Ethan Crumbley, the 15-year-old student accused of killing four people and injuring eight others, have gone "missing."
The revelation comes after Oakland County Prosecuting Attorney Karen McDonald announced charges against Jennifer Crumbley and James Crumbley, the parents of the suspect.
McDonald charged each parent with four counts of involuntary manslaughter after Tuesday's shooting at Oxford High School.
Advertisement - story continues below
But on Friday, Bouchard confirmed to CNN that the couple is "missing."
CNN's Victor Blackwell asked the sheriff, "Where are the Crumbley's?"
"As a matter of fact, that's a question our detectives are working on right now," Bouchard responded. He added that an attorney representing the parents told law enforcement officials that they would "make arrangements to have them arrested" if charges were brought.
He continued, "When we were informed the prosecutor had issued charges, we sent detectives out and got a call from the lawyer from the couple saying they're not returning her calls or texts. So, if they think they're going to get away, they're not."
Advertisement - story continues below
Watch the video below:
"So the Crumbleys are missing now?"
"Correct" pic.twitter.com/fbFTocjReM

— Acyn (@Acyn) December 3, 2021
Blackwell asked, "So the Crumbleys are missing now?"
"Correct," Bouchard said.
When asked if he is concerned that the couple is armed, he said, "You know, anything's possible."
Advertisement - story continues below
"I would not encourage anybody to approach them. I think it would be unlikely, but we're not going to take that chance. We're going to go get them," Bouchard added.
He told Fox News on Friday, "Our detectives and fugitive apprehension team and the U.S. Marshal Service and the FBI — all of us are in concert looking for them… I'm confident we'll find these two."
The sheriff added, "We would have liked to have been given a bit of advance notice that a warrant was coming and had set up on them or done something electronically."
Attorneys for the parents said that they are not fleeing. Additionally, a statement said the parents left the town the night of the shooting "for their own safety" and were planning to return to the area to be arraigned.
Advertisement - story continues below
However, CNN noted they were supposed to be in court for their arraignment at 4 p.m and they had not yet returned by that time.
Truth and Accuracy
We are committed to truth and accuracy in all of our journalism. Read our editorial standards.
Comment Down Below
Conversation