Should Cuomo Resign? Pelosi Says He Should 'Look Inside His Heart' To 'See if He Can Govern Effectively'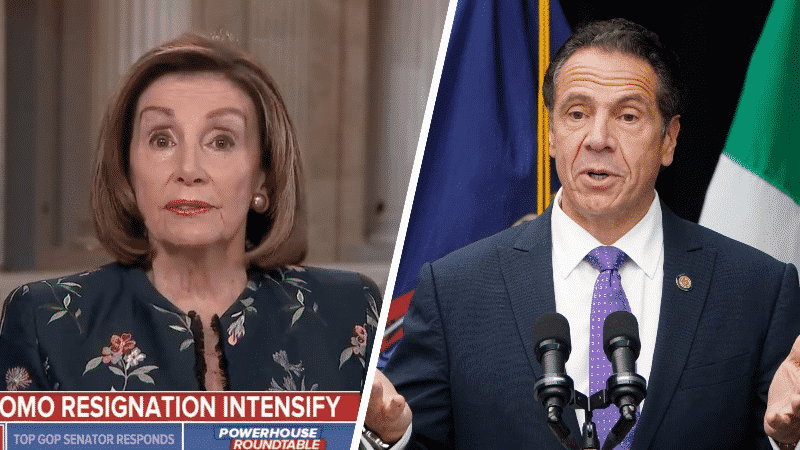 New York Gov. Andrew Cuomo (D) is facing growing calls for his resignation from state lawmakers and members of the state's Congressional delegation.
However, House Speaker Nancy Pelosi (D-Calif.), who says Cuomo loves New York, was not so quick to call for the governor to step down.
During an appearance on ABC's "This Week" on Sunday, Pelosi noted that she has implemented a "zero-tolerance" policy for sexual harassment in the House of Representatives.
She recalled that after the first allegations of harassment were made against Cuomo she said they should be treated seriously.
"What I said at the time that these revelations came forward I said what these women had said must be treated with respect, they are credible and serious charges, and then I called for an investigation," Pelosi said.
She continued, "I have confidence in the attorney general of New York. She has called for an expeditious investigation."
Pelosi went on to say that it is up to Cuomo to decide whether or not he should resign.
"In terms of, generally speaking, people have to look inside themselves and say — and Governor Cuomo also — how effective is their leadership in leading the state under the circumstances that are there? But, I do think that the women deserve to hear the results of these investigations, as does the governor."
Host George Stephanopoulos asked, "But, you're not calling on him to resign right now?
"I think we should see the results of the [investigation] but he may decide, hopefully, this result will be soon. And what I'm saying is the governor should look inside his heart, he loves New York, to see if he can govern effectively. And that could be one of the considerations that he has," she responded.
Watch the video below:
Following calls for his resignation, House Speaker Nancy Pelosi says New York Governor Andrew Cuomo "should look inside his heart… to see if he can govern effectively." https://t.co/h5sIQu1Wye pic.twitter.com/sDL9EEvFEn

— This Week (@ThisWeekABC) March 14, 2021
On Friday, Senate Majority Leader Chuck Schumer (D-N.Y.) and Sen. Kirsten Gillibrand (D-N.Y.) called on Cuomo to resign in the face of multiple allegations of sexual harassment.
In a statement, the two senators wrote, "Due to the multiple, credible sexual harassment and misconduct allegations, it is clear that Governor Cuomo has lost the confidence of his governing partners and the people of New York."
Fifty-five state Democratic lawmakers and 16 out of New York's 27 members of Congress have called for the governor to step down.
Additionally, the state's attorney general has launched an investigation into the allegations, and the legislature has announced that it will conduct an impeachment investigation.
Cuomo has denied that he acted inappropriately and has said that he will not resign.
During a press conference on Friday, he said, "People know the difference between playing politics, bowing to cancel culture and the truth. Let the review proceed, I'm not going to resign, I was not elected by the politicians, I was elected by the people."