News
Sinema Blasts Lawmakers: They Make False Promises to 'Get the Short-Term Political Gain'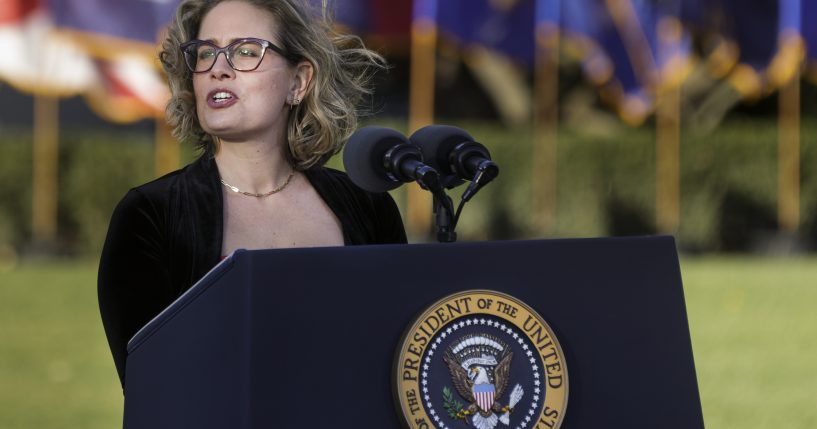 Sen. Kyrsten Sinema (D-Ariz.) urged lawmakers to be honest about what they can deliver to the American people.
In an interview with Politico, Sinema spoke out about a wide range of topics, including her differences with other Democrats and how both parties make promises they are unable to keep.
"You're either honest or you're not honest. So just tell the truth and be honest and deliver that which you can deliver," Sinema said.
Advertisement - story continues below
She continued, "There's this growing trend of people in both political parties who promise things that cannot be delivered, in order to get the short-term political gain. And I believe that it damages the long-term health of our democracy."
The senator explained how disagreement among members of both parties should not be avoided.
"I've been concerned at the push that happens in both parties, this push to have no disagreements. To only have unity or to only speak with one voice. And some will say, 'Oh, that is our strength,'" Sinema said.
She added, "Having some disagreement is normal. It is real, it is human. And it's an opportunity for us as mature beings to work through it."
Advertisement - story continues below
According to Sinema, she has no intentions of switching parties, saying, "No. Why would I do that?
Sinema also expressed frustration with the coverage of the outfits she chooses to wear on the Senate floor.
"It's very inappropriate. I wear what I want because I like it. It's not a news story, and it's no one's business," Sinema explained. "It's not helpful to have [coverage] be positive or negative. It also implies that somehow women are dressing for someone else."
Sinema has proven to be an obstacle to President Joe Biden's $1.75 trillion social spending plan. On Monday she delivered opening remarks during the signing ceremony for the $1.2 trillion infrastructure bill.
Calling the legislation "historic," Sinema added, "Our plan will create millions of jobs and make our country stronger, safer and more globally competitive without raising taxes on everyday Americans."
Truth and Accuracy
We are committed to truth and accuracy in all of our journalism. Read our editorial standards.
Comment Down Below
Conversation