Sen. Tammy Duckworth Rips Tucker Carlson for Claiming She 'Hates America'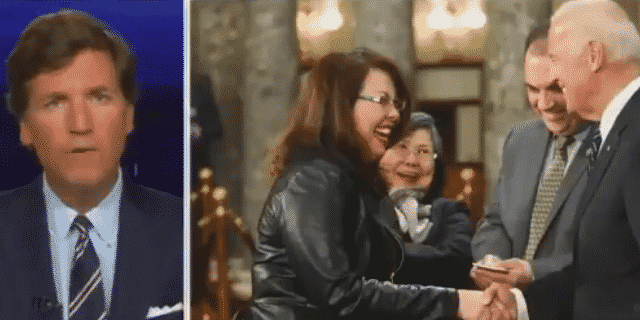 Sen. Tammy Duckworth (D-Ill.) is firing back at Fox News host Tucker Carlson for offensive remarks he made in response to her support of national dialogue calling for the removal of George Washington memorials.
The Illinois senator took to Twitter on Monday night in response to Carlson's scathing remarks describing her as a "deeply silly and unimpressive person" who "hates America."
"Does [Tucker Carlson] want to walk a mile in my legs and then tell me whether or not I love America?" Duckworth tweeted.
Does @TuckerCarlson want to walk a mile in my legs and then tell me whether or not I love America?

— Tammy Duckworth (@SenDuckworth) July 7, 2020
Duckworth's comments came shortly after "The Tucker Carlson Show" aired Monday evening. At the time, Carlson discussed the campaigns calling for the removal of controversial statues.
He said, "You're not supposed to criticize Tammy Duckworth in any way because she once served in the military. Most people just ignore her. But when Duckworth does speak in public, you're reminded what a deeply silly and unimpressive person she is."
Carlson went on to question Duckworth's patriotism before drawing to his own conclusion. He claimed Duckworth, and people like her, "hate America."
"It's long been considered out of bounds to question a person's patriotism. It's a very strong charge, and we try not ever to make it. But in the face of all of this, the conclusion can't be avoided. These people actually hate America. There's no longer a question about that." 
See Carlson's remarks below:
Tucker Carlson says Sen. Duckworth, a leading VP candidate who lost her legs in Iraq, hates the U.S. pic.twitter.com/LpljuMCJLm

— Steve Beynon (@StevenBeynon) July 7, 2020
Despite Carlson's remarks, Duckworth is a highly lauded Democratic lawmaker who could be embarking on a new political path in the coming weeks.
Duckworth is one of the women reportedly being taken into deep consideration as a potential vice president pick for Democratic presidential candidate Joe Biden.
He is expected to announce his running mate on or before August 1 just two weeks before the Democratic National Convention.