News
Target Loses Billions in Market Value After Boycott Over LGBT-Themed Products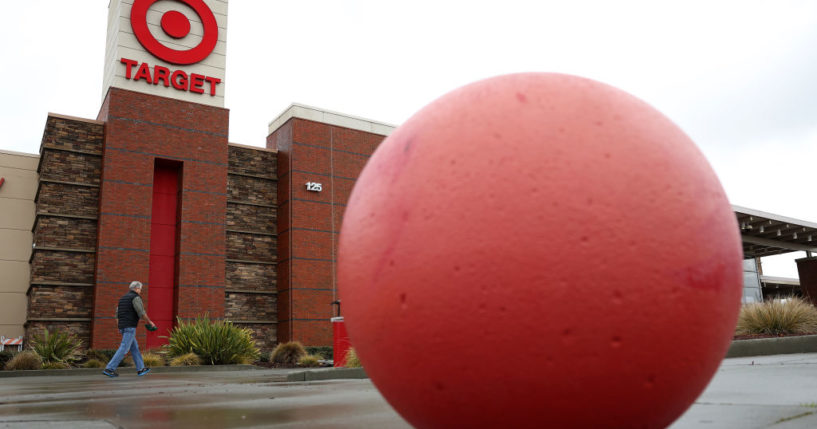 Target's stock price has taken a hit amid the backlash over its LGBT-themed products.
The New York Post noted on May 17 the retailer's stock closed at $160.96 per share, giving it a market value of $74.3 billion.
But as of Thursday morning, its stock price was hovering around $140 a share. And its market value was down roughly $10 billion and around $64 billion.
Advertisement - story continues below
The drop in its share price came after conservatives pushed to boycott the company over its LGBT-themed products.
At the same time, it was revealed the company was selling apparel from Abprallen, a London-based designer that sells some products accused of featuring Satanic imagery. One shirt sold by the designer states, "Satan Respects Pronouns." Meanwhile, a badge states, "Trans Witches For Abortion."
Target was not selling those products. However, its website did off three products from Abprallen. One is a sweatshirt that reads, "Cure Transphobia, Not Trans People."
Why did @target hire a Satanist to design pieces for their recent "Pride" clothing line?

WTF👉🏽"Satan loves you and respects who you are… LGBTQIA+ people are so often referred to as being a product of Satan or going against God's will, so fine. We'll hang with Satan instead." pic.twitter.com/FLsNZNzHNa

— Scarlett Johnson (@scarlett4kids) May 20, 2023
Advertisement - story continues below
The company also faced criticism after images of its "tuck friendly" LGBT-themed swimwear line with "extra crotch coverage" came to light. The Hill noted those swimsuits "allow trans women who have not had gender-affirming operations to conceal their private parts."
In the wake of the controversy, Fox News reported Target locations in mostly rural areas are relocating their annual Pride sections to avoid criticism from conservatives.
Do you think the drop will continue?
According to the outlet, "A Target insider said there were 'emergency' calls on Friday and some managers and district senior directors were told to tamp down the Pride sections immediately."
A company insider said, "We were given 36 hours, told to take all of our Pride stuff, the entire section, and move it into a section that's a third the size. From the front of the store to the back of the store, you can't have anything on mannequins and no large signage."
And in a statement, the retail giant said it has "experienced threats impacting our team members' sense of safety," and is "making adjustments to our plans, including removing items that have been at the center of the most significant confrontational behavior."
Advertisement - story continues below
The drop in Target's market value comes after beer brand Bud Light faced a similar experience after it produced a commemorative can for transgender influencer Dylan Mulvaney, who then shared a post about it on Instagram.
After Mulvaney's post, conservatives expressed outrage and a boycott movement was launched in April.
More than a month later, the beer brand is still seeing a domestic dip in sales.
And it has reportedly offered to buy back unsold beer from wholesalers once it expires.
Advertisement - story continues below
Bud Light's parent company Anheuser-Busch's market value has dropped by $15.7 billion since the controversy began.
Truth and Accuracy
We are committed to truth and accuracy in all of our journalism. Read our editorial standards.
Comment Down Below
Conversation