News
Trump: It Is 'Too Early' To Say if I Would Pick Pence As My Running Mate Again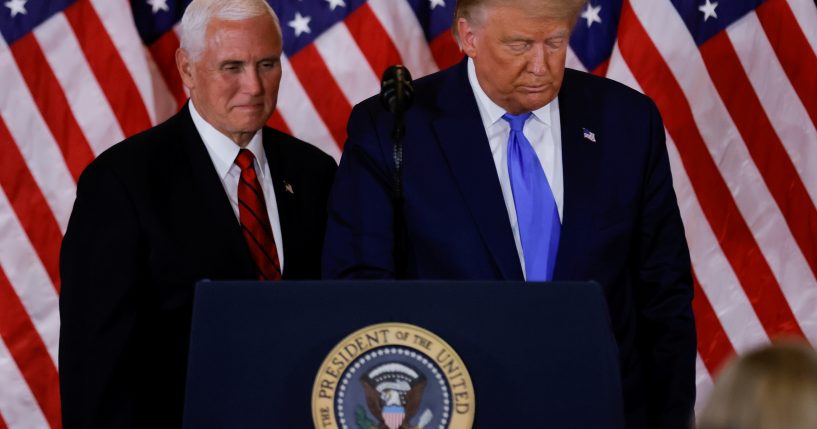 Former President Donald Trump is not committing to asking former Vice President Mike Pence to be his running mate if he runs again in 2024.
Speaking to Fox News on Saturday, he said, "Mike and I have a good relationship, we continue to have a good [relationship], but it's too early to be discussing running mates certainly."
Trump has not said whether he plans to run for president again, however, he has teased that he might.
Advertisement - story continues below
He told The Daily Wire's Candace Owens in May that "I think people are going to be very, very happy … when I make a certain announcement."
Trump took a shot at Pence on Twitter while hundreds of the former president's supporters stormed the U.S. Capitol as lawmakers met to certify President Joe Biden's electoral victory on Jan. 6.
"Mike Pence didn't have the courage to do what should have been done to protect our Country and our Constitution, giving States a chance to certify a corrected set of facts, not the fraudulent or inaccurate ones which they were asked to previously certify," Trump wrote at the time, adding, "USA demands the truth!"
And during a speech to Republicans in April, Trump reportedly said, "I wish that Mike Pence had the courage to send it back to the legislatures … I like him so much. I was so disappointed."
Advertisement - story continues below
During remarks at the Hillsborough County Republican Committee's Lincoln-Reagan Dinner in New Hampshire on Thursday, Pence said, "As I said that day, January 6 was a dark day in the history of the United States Capitol."
"You know, President Trump and I have spoken many times since we left office. And I don't know if we'll ever see eye to eye on that day. But I will always be proud of what we accomplished for the American people over the last four years," he added.
Truth and Accuracy
We are committed to truth and accuracy in all of our journalism. Read our editorial standards.
Conversation