News
Trump Files Lawsuit Against CNN, Demands the Network Pay $475 Million in Damages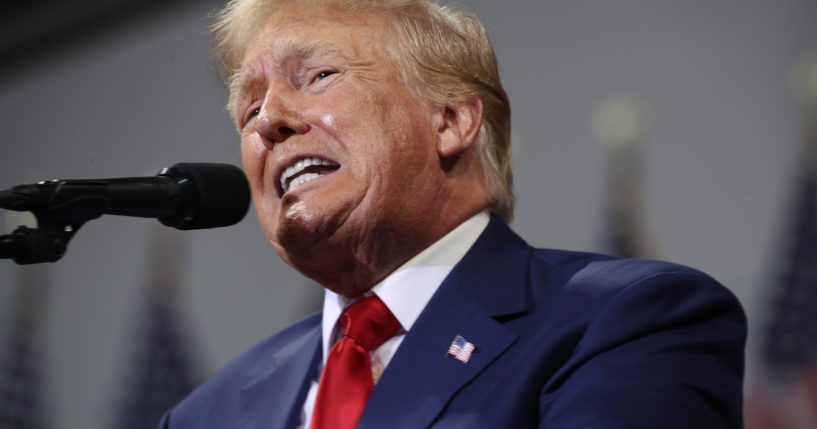 Former President Donald Trump is suing CNN.
On Monday, The New York Times reported Trump filed a lawsuit against the network asking for $475 million in damages.
The lawsuit was reportedly filed in U.S. District Court in Fort Lauderdale, Florida.
Advertisement - story continues below
According to the lawsuit, the network has engaged in a "campaign of dissuasion in the form of libel and slander" that Trump alleges has escalated "as CNN fears the plaintiff will run for president in 2024."
The Times notes the lawsuit mentions several occasions during which CNN hosts and guests criticized Trump for his policies and challenging the results of the 2020 election.
A footnote included in the lawsuit shows the former president's representatives reached out to CNN over the summer to notify the network of prospective litigation and ask that it stop calling Trump's 2020 election claims "lies," as the Times reported.
"You have not identified a single false or defamatory statement in your letter," CNN replied to Trump, according to the lawsuit.
Advertisement - story continues below
The Times pointed out Trump's lawyers used CNN's coverage they allege caused Trump to suffer "embarrassment, pain, humiliation and mental anguish" as evidence of why he deserves the $475 million.
Jessica Levinson, a law professor at Loyola Marymount University, told The Washington Post she sees "no legal path forward" for Trump.
Is the lawsuit justified?
Levinson explained, "I see no false statements of fact that were made with actual malice."
The law professor suggested "it's really about trying to chill speech against the former president."
She added, "It's a warning shot to media outlets that he intends to make good on threats of suing for defamation. And for some outlets, that could ultimately put them out of business."
Advertisement - story continues below
Trump issued a lengthy statement about his lawsuit, suggesting he would be filing additional lawsuits in the near future.
"In the coming weeks and months we will also be filing lawsuits against a large number of other Fake News Media Companies for their lies, defamation, and wrongdoing, including as it pertains to the 'Big Lie,' that they used so often in reference to their disinformation attack on Presidential Election of 2020," Trump said.
Read the statement below:
Pres. Donald Trump's statement regarding his lawsuit against CNN.

Trump promises he will filing more lawsuits against other news companies "in the coming weeks and months." 👇@OANN pic.twitter.com/JbD5iDFlne

— Daniel Baldwin (@baldwin_daniel_) October 3, 2022
Advertisement - story continues below
Concluding his statement, Trump said the "rigging and stealing of our Presidential Election was perhaps The Crime Of The Century, and look what is happening to our Country now!"
Truth and Accuracy
We are committed to truth and accuracy in all of our journalism. Read our editorial standards.
Comment Down Below
Conversation