Commentary
Trump Urges GOP to Back McCarthy and Avoid a 'Giant' and 'Embarrassing Defeat'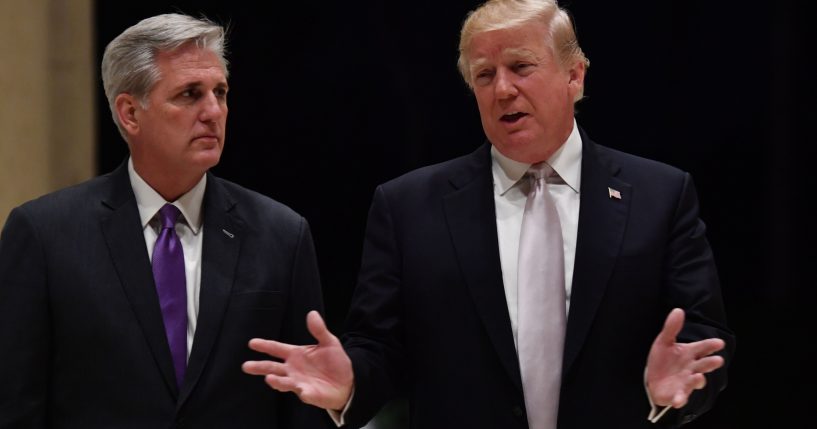 After a chaotic day, former President Donald Trump is reaffirming his support for House Republican Leader Kevin McCarthy's (R-Calif.) bid for speaker.
In a post on Truth Social Wednesday morning, Trump wrote, "Some really good conversations took place last night, and it's now time for all of our GREAT Republican House Members to VOTE FOR KEVIN, CLOSE THE DEAL, TAKE THE VICTORY, [and] WATCH CRAZY NANCY PELOSI FLY BACK HOME TO A VERY BROKEN CALIFORNIA,THE ONLY SPEAKER IN U.S. HISTORY TO HAVE LOST THE 'HOUSE' TWICE!"
"REPUBLICANS, DO NOT TURN A GREAT TRIUMPH INTO A GIANT [and] EMBARRASSING DEFEAT. IT'S TIME TO CELEBRATE, YOU DESERVE IT. Kevin McCarthy will do a good job, and maybe even a GREAT JOB – JUST WATCH!" he added.
Advertisement - story continues below
The post came after McCarthy lost three votes for speaker.
Tuesday's spectacle marked the first time since 1923 the House failed to elect a speaker in one vote.
In the first two rounds of voting, 19 Republicans voted for other candidates. And in the third round, the number of defectors increased to 20. The House then recessed for the day.
Advertisement - story continues below
In all three rounds, McCarthy failed to win the most votes. Rep. Hakeem Jeffries (D-N.Y.), the incoming House minority leader, received the most votes as every Democrat voted for him each time — though he was also short of the required 218 votes to become speaker.
After the failed attempt to choose a new speaker paralyzed House — it is unable to move on to other business until a speaker is chosen — Trump appeared to be wavering in his support of McCarthy.
When NBC News' Garrett Haake asked if he would maintain his endorsement of McCarthy on Tuesday night, Trump said, "We'll see what happens. We'll see how it all works out."
EXCLUSIVE: Former President Trump declined to say if he's sticking by his endorsement of Kevin McCarthy for speaker tonight, telling me in a brief phone interview he's had calls all day asking for support, and "We'll see what happens. We'll see how it all works out."

— Garrett Haake (@GarrettHaake) January 3, 2023
But his attempt to convince Republicans to back McCarthy does not appear to be working.
Advertisement - story continues below
Rep. Matt Gaetz (R-Fla.) responded in a statement as he said, "Sad!"
"This changes neither my view of McCarthy, nor Trump, nor my vote," he added.
It is hard to paint what happened yesterday as anything but a disaster for Republicans.
A recalcitrant group is holding up the business of the House, including the investigations of President Joe Biden, Hunter Biden, and the withdrawal from Afghanistan they have been waiting to launch.
Advertisement - story continues below
Meanwhile, McCarthy, having made a major concession in a failed attempt to win over the defectors before the vote, seems to have little tools left to change the dynamics and win them over. The Republicans opposed to him are so dug in they have reportedly expressed apathy to the idea a Democrat could become speaker instead of McCarthy.
If he somehow wrangles enough votes to become speaker, it is questionable how successful he will be. Rather than beating down a challenge and emerging from a swift vote as the speaker, he would wind up limping across the finish line at the mercy of a fractious group immune to pressure.
And Trump, after endorsing McCarthy and reaffirming his support for the California Republican, will appear diminished if he cannot sway his allies in Congress.
The longer the process for choosing a speaker drags on, the more Republicans appear chaotic, unruly, and unable to govern.
Truth and Accuracy
We are committed to truth and accuracy in all of our journalism. Read our editorial standards.
Comment Down Below
Conversation