Commentary
Trump Calls for Jan. 6 Committee Members to Be Tried for 'Treason' After New Footage Is Released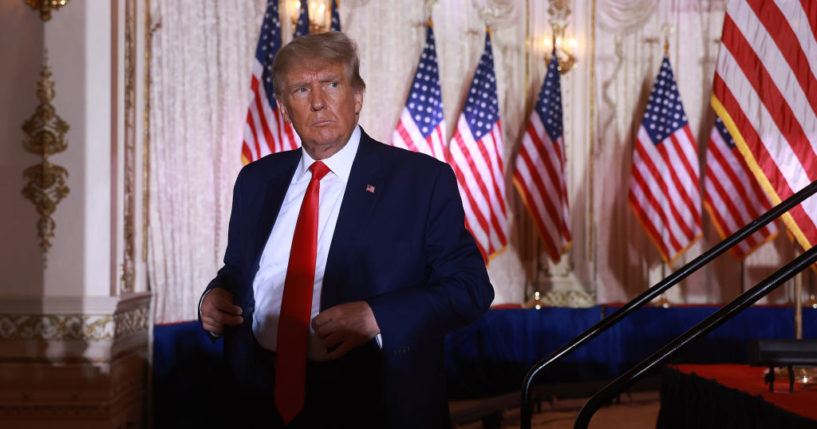 Former President Donald Trump believes members of the House committee that investigated the Jan. 6 riot at the U.S. Capitol should be prosecuted.
In a post on his Truth Social platform, he wrote, "GREAT JOB BY TUCKER CARLSON TONIGHT. The Unselect Committee of political Hacks [and] Thugs has been totally discredited. They knowingly refused to show the Videos that mattered."
"They should be tried for Fraud and Treason, and those imprisoned and being persecuted should be exonerated and released, NOW!" he added.
Advertisement - story continues below
The post comes after Fox News host Tucker Carlson released some of the 40,000 hours of footage from the Jan. 6 riot he was given in an attempt to downplay the violence that day. Carlson focused on one part of the footage, which appeared to show law enforcement walking with the so-called "QAnon Shaman" in the Capitol and declining to stop him.
"The tapes show the Capitol police never stopped Jacob Chansley. They helped him. They acted as his tour guides," Carlson insisted. "If he was in the act of committing such a grave crime, why didn't the officers standing right next to him place him under arrest?" 
He told his viewers there was a "small percentage" of "hooligans" who engaged in vandalism. However, the rest he claimed were "sightseers":
Advertisement - story continues below
"They were peaceful, they were orderly and meek. These were not insurrectionists. They were sightseers. Footage from inside the capitol overturns the story you have heard about January 6. Protesters cue up in neat little lines. They give each other tours outside the speaker's office. They take cheerful selfies and they smile. They are not destroying the Capitol. They obviously revere the Capitol."
This, of course, downplays the fact rioters battled with police for hours, and 106 of them were charged with using a deadly weapon. And it ignores that four people died that day: one died of a stroke, one died of a heart attack, and one is believed to have died as they were crushed in a rush of people. And there was Ashli Babbitt, who was shot while trying to enter the House chamber.
Officer Brian Sicknick, of the Capitol Police, died of a stroke on Jan. 7 after being attacked by the mob. The Washington medical examiner ruled he died of natural causes but added, "All that transpired played a role in his condition."
Additionally, Officer Jeffrey Smith of the Metropolitan Police Department and Officer Howard Liebengood of the Capitol Police died of suicide after the attack.
Carlson's narrative cannot be seen as anything other than an attempt at revisionist history.
Advertisement - story continues below
And it makes Trump's call for current and former members of Congress to be tried for treason even more contemptible as it is based on an intentional effort to mispresent the facts of the day.
The Jan. 6 committee was certainly not perfect. Its members were caught altering text messages. And they tried to embarrass Sen. Josh Hawley (R-Mo.) by showing a video that appeared as though he were cowardly running from the rioters. Footage shown by Carlson reveals that clip came from a moment when multiple lawmakers were being escorted from the building by police, which is not much better.
Still, the singling out of Hawley in the fuller context seemed to be an intentional and unnecessary jab.
But lawmakers focusing on the violence and an attempt to overturn an election while ignoring seemingly peaceful people is not evidence of treason — a charge by the way that carries the death penalty.
Advertisement - story continues below
And calling for current and former lawmakers to be tried for treason for actions that do not amount to treason is not normal, nor should it be viewed as acceptable in our political dialogue.
Truth and Accuracy
We are committed to truth and accuracy in all of our journalism. Read our editorial standards.
Comment Down Below
Conversation