Commentary
Trump Lashes Out at DeSantis – Slaps Him With 4-Letter Label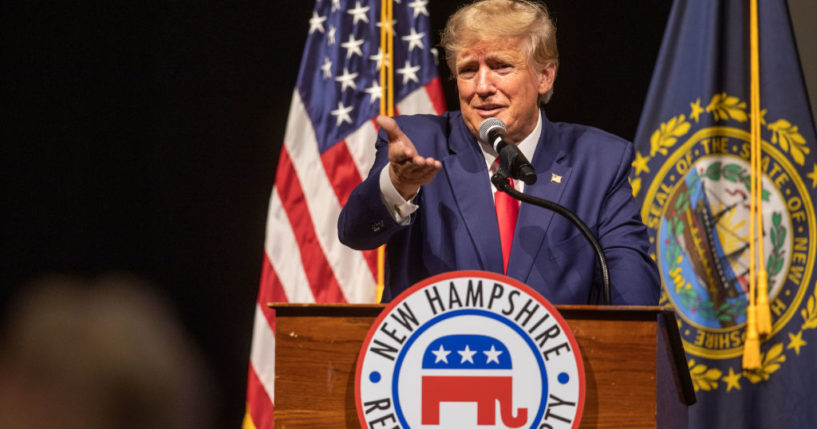 After a relatively quiet few months of his campaign, former President Donald Trump is starting to go on the offense against his potential 2024 primary rivals.
In a post on his Truth Social, Trump targeted Florida Gov. Ron DeSantis (R) with a four-letter acronym.
"The real Ron is a RINO GLOBALIST, who closed quickly down Florida and even its beaches," he wrote.
Advertisement - story continues below
The post added, "Loved the Vaccines and wasted big money on 'Testing.' How quickly people forget!"
The Florida governor has not shared whether he will run for president in 2024. But there is speculation he could be a strong challenger to Trump.
And any niceties between the two men have gone out the window, at least from Trump's perspective, now that DeSantis potentially poses a challenge.
Advertisement - story continues below
But he seems to be struggling to construct a strong line of attack against the governor.
Last year he coined the nickname "Ron DeSanctimonious." But, it just does not have the same ring as "Lyin' Ted," "Little Marco," or "Little pencil-neck."
Is this a good criticism?
So now he appears to be trying to make DeSantis anathema to the base by calling him a "Republican in name only."
This is an odd label. DeSantis is not the type of Republican who goes on CNN and criticizes Rep. Marjorie Taylor Greene (R-Ga.) and wails about "insurrectionists." He is not arguing against conservative social policies. Instead, he is a conservative governor advancing policies to stop "wokeism."
Trump attacked DeSantis over his handling of COVID-19. But this is also odd. DeSantis has worked to reopen his state quickly and limit the ability of companies and preserve individual freedom amid the pandemic. The former president also revived his bizarre criticism of Covid-19 tests.
Advertisement - story continues below
In 2020, Trump repeatedly suggested people should stop taking Covid tests and then the numbers would go down.
"When you test, you create cases," he told reporters in July 2020.
But if paying for tests makes one a RINO, then Trump himself is the chief RINO because, on his watch, the federal government spent hundreds of millions of dollars on tests.
And even if DeSantis could be considered a RINO, there is the fact the former president has decided to take credit for his 2018 gubernatorial victory. So he, therefore, made a RINO a star — which does not speak well of his judgment.
Advertisement - story continues below
If Trump wants to take out DeSantis politically, he will need to spend a little more time workshopping his attacks.
Truth and Accuracy
We are committed to truth and accuracy in all of our journalism. Read our editorial standards.
Comment Down Below
Conversation