News
Trump Accuses Milley of 'Treason' Over Report He Vowed To Alert China of a Potential Attack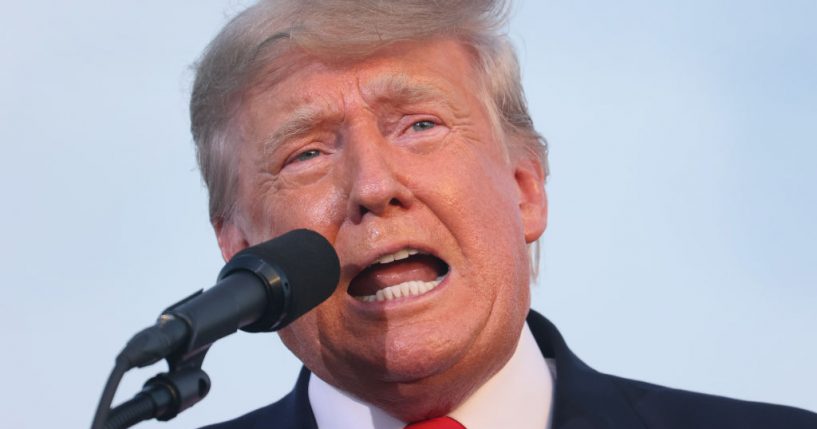 Former President Donald Trump is laying into the chairman of the Joint Chiefs of Staff, Gen. Mark Milley, over a report in a new book that he promised to give China advance notice if a strike was ordered.
Trump told Newsmax on Tuesday, "So first of all, if it is actually true which is hard to believe, that he would have called China and done these things and was willing to advise of them of an attack or in advance of an attack, that's treason. And I've had so many calls today saying that's treason."
While he admitted that there was "a lot of anger about China on trade," he said the idea that he would launch an attack is "totally ridiculous."
Advertisement - story continues below
"For him to say that I would even think about attacking China, I think he's just trying to get out of his incompetent withdrawal out of Afghanistan. The worst, the dumbest thing that's anybody's seen," Trump said.
Finally, he added, "For him to say that I was going to attack China is the most ridiculous thing that I've ever heard… I did not ever think of attacking China."
Watch the video below:
JUST IN – Trump says "it's treason, if true" on Gen. Milley report.pic.twitter.com/ld5c4HnnAc

— Disclose.tv (@disclosetv) September 14, 2021
Advertisement - story continues below
Trump's comments referred to an excerpt of the new book "Peril" by Bob Woodward and Robert Costa of The Washington Post, which revealed that Milley contacted his Chinese counterpart to assure them that the U.S. could not conduct a strike.
As the Post reports, "In the book's account, Milley went so far as to pledge he would alert his counterpart in the event of a U.S. attack, stressing the rapport they'd established through a backchannel. "General Li, you and I have known each other for now five years. If we're going to attack, I'm going to call you ahead of time. It's not going to be a surprise."
Additionally, after Jan. 6, Milley told his counterpart, "We are 100 percent steady. Everything's fine. But democracy can be sloppy sometimes."
Truth and Accuracy
We are committed to truth and accuracy in all of our journalism. Read our editorial standards.
Comment Down Below
Conversation