News
New Emails Show Trump, Allies Pressured DOJ To Challenge 2020 Election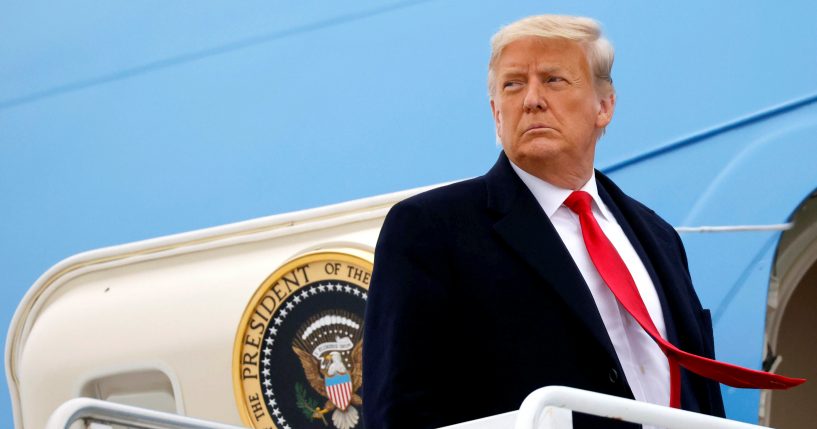 President Donald Trump and his allies reportedly pressured the Justice Department to try to challenge the results of the 2020 election.
According to newly released emails obtained by CNN from Democrats on the House Oversight Committee, Trump told his allies to pressure then-acting Attorney General Jeffrey Rosen to join the effort and "consider false and outlandish allegations that the election had been stolen," as CNN reports.
Trump allies also reportedly put pressure on the Department of Justice to "investigate claims of voter fraud in the 2020 election," per CNN.
Advertisement - story continues below
Rosen said he would not speak to Trump's longtime adviser Rudy Giuliani about his unsubstantiated claims that the election was stolen, as CNN reports.
Then-White House chief of staff Mark Meadows pushed Rosen to set up an FBI meeting with a Giuliani ally promoting a conspiracy theory that Italy was using military technology and satellites to switch votes to President Joe Biden.
"I flatly refused, said I would not be giving any special treatment to Giuliani or any of his 'witnesses,' and re-affirmed yet again that I will not talk to Giuliani about any of this," Rosen wrote in an email to then-acting Deputy Attorney General Richard Donoghue.
In a January 1 email, Meadows said there were "allegations of signature match anomalies" in Fulton County, Georgia. He asked to Rosen to have an official at the Justice Department "engage on this issue immediately to determine if there is any truth to this allegation."
Advertisement - story continues below
Rosen sent the email to Donoghue, saying, "Can you believe this? I am not going to respond to the message below."
Donoghue replied, "At least it's better than the last one, but that doesn't say much."
Meadows then sent Rosen a link to a YouTube video about Italian satellites. When Rosen forwarded it to Donoghue, he responded, "Pure insanity."
Donoghue in another exchange told Steve Engel of the Justice Department Office of Legal Counsel he wanted to meet with him and discuss "some antics that could potentially end up on your radar."
CNN's law enforcement correspondent Whitney Wild explained on Tuesday, "Over this several week period, we see an evolution of people within the Justice Department at least having the conversation, allowing these emails to come in, but they grow more and more frustrated."
Advertisement - story continues below
Watch her comments below:
New emails show how former President Donald Trump's White House assistant, chief of staff and other allies pressured the Justice Department to investigate claims of voter fraud in the 2020 election. @WhitneyWReportshttps://t.co/1F1TT4he1f pic.twitter.com/W4NevS4NPE

— New Day (@NewDay) June 15, 2021
She added, "In the end they didn't break."
Wild argued the emails "bring much more detail" and highlight "to this idea that there was just a lot of hysteria within the White House at this time."
Truth and Accuracy
We are committed to truth and accuracy in all of our journalism. Read our editorial standards.
Comment Down Below
Conversation