News
Trump Slams 'Radical, Left Democratic Investigations' in Late-Night Video Ahead of Potential Indictment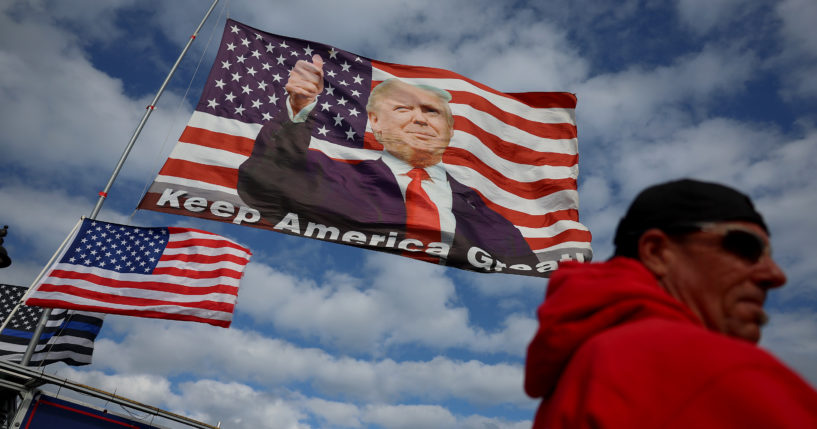 Former President Donald Trump posted a video to his Truth Social platform, taking aim at Democrats amid his legal battles.
"These four horrible, radical, left Democratic investigations of your all-time favorite president … is just a continuation of the most disgusting witch hunt in the history of our country," Trump argued.
He continued, "It's an absolute disgrace, what's going on."
Advertisement - story continues below
Trump accused Democrats of "spying on my campaign."
The former president brought up the investigation of Special Counsel Robert Mueller into his potential collusion with Russia.
"Remember this, with all of this work that they did on Mueller, no collusion. That's what the answer was. It was all no collusion," Trump said.
Advertisement - story continues below
He went on to mention a series of other investigations, including that of the raid on his Mar-a-Lago residence and the matter with porn star Stormy Daniels.
"Our enemies are desperate to stop us because they know we are the only ones who can stop them, and they know it strongly. Looking at the polls we're — not me, but we — are up by so much you can't even believe it," Trump explained.
Do you think the Democrats are coming for you?
He declared, "We won twice, and now we've got to win a third time."
Trump also claimed they are coming after Americans, he is just "standing in the way."
NPR noted it has been indicated that a New York grand jury is very close to indicting Trump in the case related to his hush payments to Daniels.
Advertisement - story continues below
Upon Trump's message to his supporters urging them to protest, the New York City Police Department was seen placing barricades around a courthouse, IJR reported.
House Speaker Kevin McCarthy (R-Calif.) pushed back against Trump's suggestion to protest over the weekend.
"I don't think people should protest this, no," McCarthy said to reporters, per Politico. "We want calmness out there."
However, some lawmakers do not agree with McCarthy.
Advertisement - story continues below
Rep. Marjorie Taylor Greene (R-Ga.) said, "I don't think there's anything wrong with calling for protests. Americans have the right to assemble, the right to protest. And that's an important constitutional right. And he doesn't have to say peaceful for it to mean peaceful. Of course, he means peaceful."
She continued, "Of course, President Trump means peaceful protests."
Truth and Accuracy
We are committed to truth and accuracy in all of our journalism. Read our editorial standards.
Comment Down Below
Conversation