News
Trump Speaks Out in First Interview Since Raid: 'Temperature Has to Be Brought Down'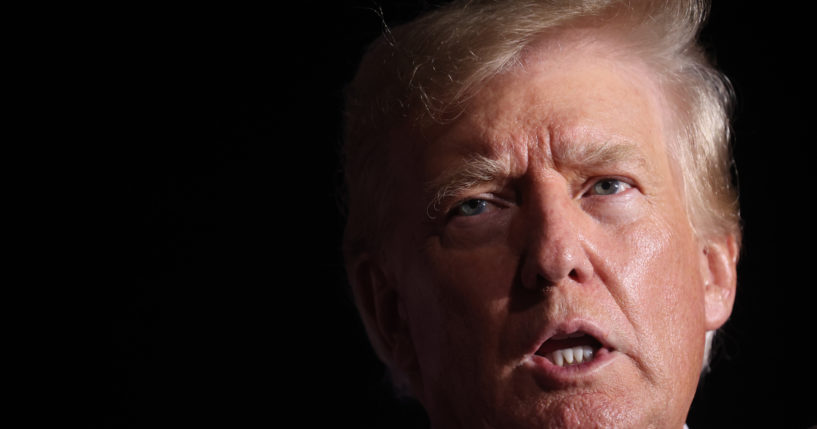 Former President Donald Trump believes that it is a "very dangerous time for our country" following the FBI raid of Mar-a-Lago.
Fox News spoke to Trump for his first interview since the FBI's search.
"The country is in a very dangerous position. There is tremendous anger, like I've never seen before, over all of the scams, and this new one—years of scams and witch hunts, and now this," Trump said.
Advertisement - story continues below
The outlet noted Trump said he directed his representatives to contact the Department of Justice to offer assistance amid the outrage over the raid.
"If there is anything we can do to help, I, and my people, would certainly be willing to do that," Trump told Fox News.
He continued, "There has never been a time like this where law enforcement has been used to break into the house of a former president of the United States, and there is tremendous anger in the country—at a level that has never been seen before, other than during very perilous times."
According to the former president, his representatives have "not heard yet" from the department on his offer.
Advertisement - story continues below
Trump explained, "I think they would want the same thing—I've never seen anything like this. It is a very dangerous time for our country."
He went on to vow to "do whatever I can to help the country."
Trump argued the FBI "could have planted anything they wanted" during the raid. 
The former president suggested the "temperature has to be brought down in the country. If it isn't, terrible things are going to happen."
He added, "The people of this country are not going to stand for another scam."
Advertisement - story continues below
The New York Times reported that the FBI had seized 11 sets of documents during the search of his residence.
Additionally, the Times pointed out that Trump said last week he had declassified all the material he possessed while still president.
On Thursday, Attorney General Merrick Garland announced he had "personally approved" the search of Mar-a-Lago.
In case you missed it:
Advertisement - story continues below
"I personally approved the decision to seek a search warrant in this matter," said Attorney General Merrick Garland, speaking publicly for the first time since the FBI searched former President Trump's Mar-a-Lago home. https://t.co/bnwoPB0DSg pic.twitter.com/FlJIF02LDS

— USA TODAY (@USATODAY) August 11, 2022
According to the Times, shortly before Garland made the announcement, Trump wanted to get a message to him.
A person familiar with the exchange revealed the message Trump wanted to send was, "The country is on fire. What can I do to reduce the heat?"
Truth and Accuracy
We are committed to truth and accuracy in all of our journalism. Read our editorial standards.
Comment Down Below
Conversation