News
Trump Tells Friends He Is Open to the Idea of a Perp Walk if He Is Arrested: Report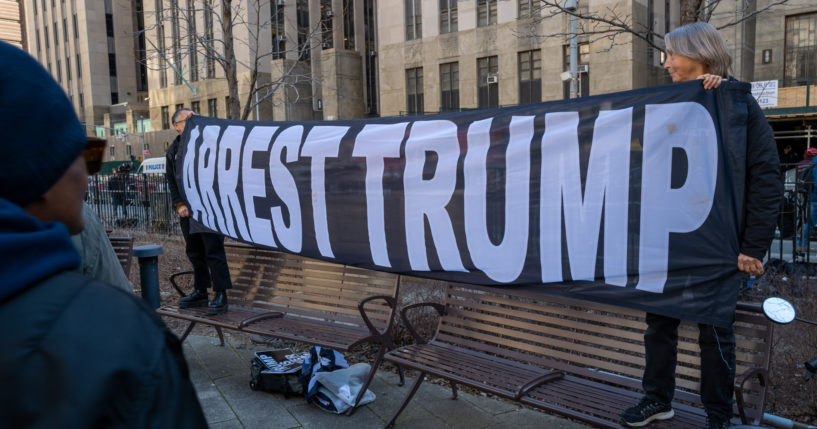 Former President Donald Trump shared with his friends how he would prefer his potential arrest to be handled, according to a report.
On Tuesday, The New York Times reported Trump said to his friends and associates behind the doors of his Mar-a-Lago resort that he is open to a perp walk and "being paraded" by the authorities in front of reporters if he is arrested.
Additionally, Trump has thought about smiling for the cameras and how the public would react, per The Times.
Advertisement - story continues below
Trump is also said to have "described the potential spectacle as a fun experience."
The newspaper pointed out, in the case that Trump is indicted and voluntarily surrenders, the Secret Service and law enforcement will likely work together to avoid chaos related to the media.
Another individual who spoke with Trump told The Times he was not as concerned with the details of "where he would be seen than with being assured of the opportunity to show the public he is not slinking away in shame."
Individuals who have been with Trump recently explained he has "appeared significantly disconnected" from the intensity surrounding his legal issues, The Times reported.
Advertisement - story continues below
He has been seen riding his golf cart around the resort as well as "one recent evening acted as D.J. at a party with his personally curated Spotify playlists, which often include music from the Rolling Stones to 'The Phantom of the Opera,'" the newspaper explained.
"He wants to be defiant — to show the world that if they can try to do this to him, they can do it to anyone," one individual who spoke to Trump told The Times.
It was reported on Monday by several outlets, pointing to law enforcement sources and those close to Trump's legal team, it is expected that an arrest will not happen before next week.
CNN noted federal officials are monitoring an alleged increase in violent rhetoric online since Trump called for protests.
Trump called for protests but outside Trump Tower right now are demonstrators calling for his arrest lol pic.twitter.com/M40nSGAV1t

— Aaron Rupar (@atrupar) March 21, 2023
Advertisement - story continues below
An intelligence memo penned by the U.S. Capitol Police over the weekend stated there was "no indication of large-scale organized protests and/or violence."
The memo suggested while Trump's impact on some conservatives has "waned since he left office, some of his most ardent supporters continue to condone political violence and continue to be willing to fight on behalf of the former president."
Truth and Accuracy
We are committed to truth and accuracy in all of our journalism. Read our editorial standards.
Comment Down Below
Conversation