Tucker Carlson Calls Matt Gaetz Interview 'One of the Weirdest Interviews' He Has Ever Done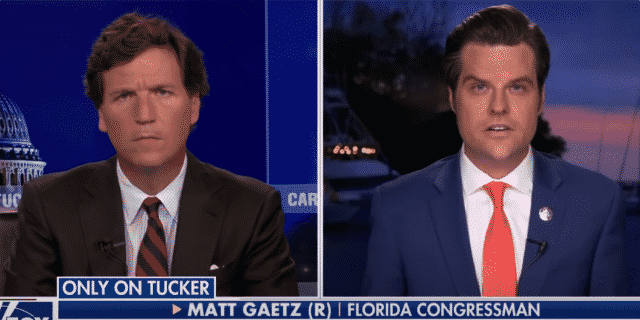 Fox News's Tucker Carlson is calling his interview with Rep. Matt Gaetz (R-Fla.) "one of the weirdest interviews" he has ever done.
"If you just saw our Matt Gaetz interview, that was one of the weirdest interviews I have ever conducted," Carlson said on Thursday night.
The host added that he does not believe his Gaetz interview "clarified much, but it certainly showed this is a deeply interesting story and we'll be following it. Don't quite understand it."
See Carlson's comments below:
"That was one of the weirdest interviews I've ever conducted."pic.twitter.com/lo2BqvxHJT

— andrew kaczynski (@KFILE) March 31, 2021
The New York Times reported on Tuesday that the Department of Justice (DOJ) is investigating "whether he had a sexual relationship with a 17-year-old and paid for her to travel with him." The probe was reportedly launched near the end of former President Donald Trump's presidency.
As the Times reports, "Investigators are examining whether Mr. Gaetz violated federal sex trafficking laws, the people said. A variety of federal statutes make it illegal to induce someone under 18 to travel over state lines to engage in sex in exchange for money or something of value. The Justice Department regularly prosecutes such cases, and offenders often receive severe sentences."
Gaetz has called the sexual misconduct allegations "false," as he told Axios, adding, "They are rooted in an extortion effort against my family for $25 million … in exchange for making this case go away."
The Republican lawmaker spoke about the report during Carlson's show on Tuesday night, where Gaetz called it a "horrible allegation and it is a lie."
Additionally, Gaetz said, "What I am troubled by is the real motivation for all of this."
He added, "You know, just tonight, Ted Lieu, a Democrat, was calling on me to be removed from the House Judiciary Committee. I believe we are in an era of our politics now, Tucker, where people are smeared to try to take them out of the conversation."
Watch the interview below:
Gaetz wrote in a statement later Tuesday, "Over the past several weeks, my family and I have been victims of an organized criminal extortion involving a former DOJ official seeking $25 million while threatening to smear my name. We have been cooperating with federal authorities in this matter and my father has even been wearing a wire at the FBI's direction to catch these criminals."
The Congress member continued, "The planted leak to the New York Times tonight was intended to thwart that investigation. No part of the allegations against me are true, and the people pushing these lies are targets of the ongoing extortion investigation. I demand the DOJ immediately release the tapes, made at their direction, which implicate their former colleague in crimes against me based on false allegations."