News
UFC Legend Drops F-Bomb on Fox News While Presenting Check for Charity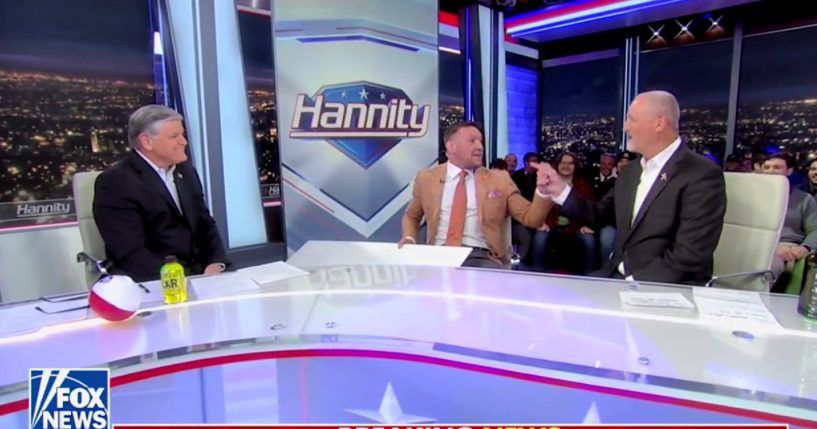 UFC legend Conor McGregor used colorful language when discussing a charity during an appearance on Fox News.
While appearing on "Hannity" Wednesday night, McGregor presented a $1 million check to Tunnel to Towers Foundation CEO Frank Siller.
The nonprofit organization honors FDNY firefighter Stephen Siller who died while saving others during the September 11 attacks.
Advertisement - story continues below
"Frank, I'm honored to support you, and I wanted to just say your brother Stephen is a f***ing, excuse me, hero," McGregor said.
The remark prompted laughs from the audience.
"You had it right the first time," Siller said.
McGregor added, "He's a hero, you're a hero, and I'm proud of Proper 12 and all the people that are working behind the scenes at Proper 12 to make this happen. Here's another donation from Proper No. 12 and myself."
Advertisement - story continues below
Watch the video below:
Conor McGregor dropped an F-Bomb on Hannity 🤣 pic.twitter.com/BcssALX9jS

— ALX 🇺🇸 (@alx) March 16, 2023
According to the foundation's website, "On September 11, 2001, Stephen, who was assigned to Brooklyn's Squad 1, had just finished his shift and was on his way to play golf with his brothers when he got word over his scanner of a plane hitting the North Tower of the World Trade Center."
It continues, "Upon hearing the news, Stephen called his wife Sally and asked her to tell his brothers he would catch up with them later. He returned to Squad 1 to get his gear."
Stephen then "strapped 60 lbs. of gear to his back, and raced on foot through the tunnel to the Twin Towers, where he gave up his life while saving others."
Advertisement - story continues below
The foundation explains since the attacks, "We have been helping America's heroes by providing mortgage-free homes to Gold Star and fallen first responder families with young children and by building specially-adapted smart homes for catastrophically injured veterans and first responders."
Additionally, they are "also committed to eradicating veteran homelessness and helping America to Never Forget September 11, 2001."
Truth and Accuracy
We are committed to truth and accuracy in all of our journalism. Read our editorial standards.
Comment Down Below
Conversation