News
'The View' Co-Host Rips Politicians for 'Impulsively' Believing Smollett's Story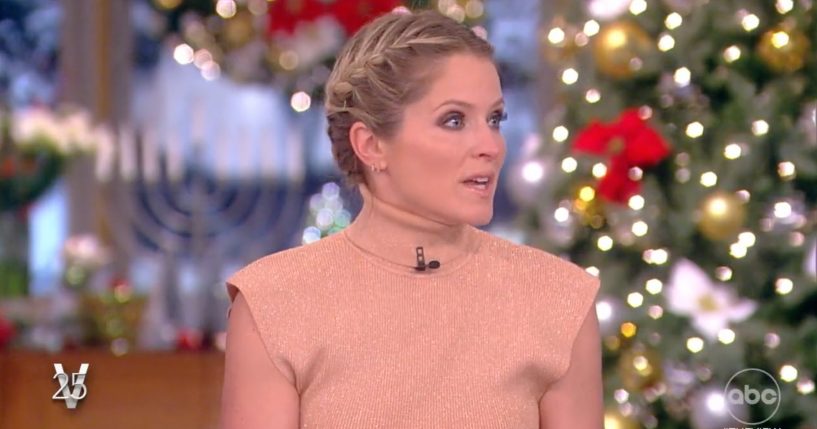 Sara Haines, a co-host of ABC's "The View" is criticizing those who "impulsively" believed actor Jussie Smollett's allegation that he was the victim of a hate crime.
Smollett was found guilty on five of six felony counts of disorderly conduct for making a false report to Chicago police he was the victim of a hate crime in 2019.
During a segment of the show on Friday, the panel discussed the verdict.
Advertisement - story continues below
"I think the problem that bothers me here with this story is that the biggest thing for a victim of any abuse or hate crime is that they won't be believed. And I think when stories like this come out, the damage is in planting a small seed that could potentially make someone not be believed when it happens," Haines said.
She continued, "The part that jumped out at me the most about this story, though, was the rush of leaders across this country to do the right thing on Twitter and make sure they spoke up immediately in defense before knowing everything."
"When you approach anything that happens you need to bring the information in, you need to respond, not react. And everyone across the board reacted very quickly and impulsively on Twitter. And I just think it's a reminder that you can't dial that back in," she added.
Watch the video below:
Advertisement - story continues below
JUSSIE SMOLLETT FOUND GUILTY OF HATE CRIME HOAX: #TheView co-hosts and @Lavernecox react to a Chicago jury finding actor Jussie Smollett guilty on five of six counts for filing a false police report in a hoax racist attack on himself in 2019. https://t.co/7N4YQPvR6x pic.twitter.com/4uGuRrss3n

— The View (@TheView) December 10, 2021
In 2019, Smollett claimed two men attacked him in Chicago, Illinois, shouted racist and homophobic slurs, put a noose around his neck, and poured an unknown substance on him.
The alleged attack received widespread attention and condemnation from high profile politicians including former President Donald Trump, President Joe Biden, Vice President Kamala Harris, and Rep. Alexandria Ocasio-Cortez (D-N.Y.)
However, about a month after the police began investigating the incident, they said they believe Smollett orchestrated the incident.
As CNN reports, "A disorderly conduct charge for a false crime report is a Class 4 felony and punishable by up to 3 years in prison and a $25,000 fine. Cook County Judge James Linn will have discretion in imposing a concurrent or consecutive sentence for each of the five counts at a later date."
Truth and Accuracy
We are committed to truth and accuracy in all of our journalism. Read our editorial standards.
Comment Down Below
Conversation