News
'The View' Co-Hosts Appear to Suggest DOJ Should Investigate Tucker Carlson, Tulsi Gabbard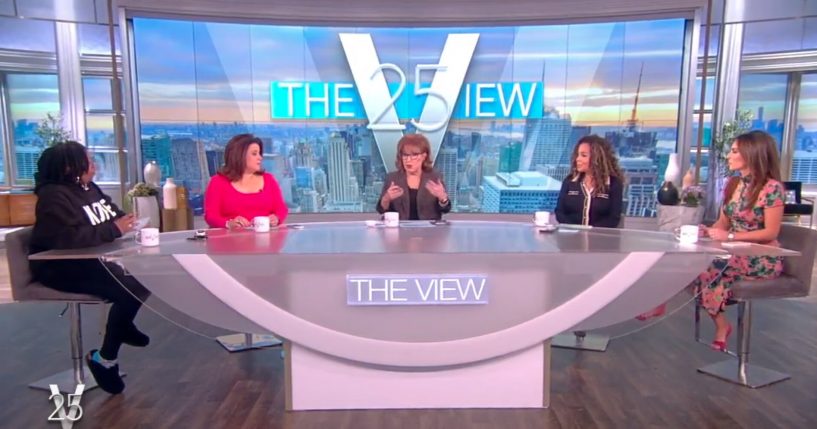 "The View" co-hosts seemed to suggest that the Department of Justice (DOJ) should investigate Fox News host Tucker Carlson and former Congresswoman Tulsi Gabbard (D-Hawaii) for their comments about Russia.
During a segment of the show Monday, co-host Sunny Hostin noted that Carlson has called the conflict in Ukraine a "border dispute" and claimed the U.S. "helped encourage the invasion."
"What is in it for him?" she asked. "I know that he's visited Moscow and other places…but I just don't understand…Do his viewers like it?"
Advertisement - story continues below
Navarro chimed in, "I think that's an incredibly relevant question. And I think DOJ, in the same way, that it is setting up a task force to investigate oligarchs, should look into people who are Russian propagandists and shilling for Putin."
"If you are a foreign asset to a dictator, it should be investigated, and, in fact, I remember when Tulsi Gabbard, and I hate that we're discussing it because I think to myself, who is this woman? She's a, you know, she's no longer in Congress. She's a failed presidential candidate," she continued.
Watch the video below:
Advertisement - story continues below
Navarro added, "She only practically exists on Twitter, and the fact that we're giving her oxygen is what makes her relevant, but we are talking about her on hot topics, but on the other hand, how do you not call out something that is repeating false Russian propaganda and that has been brought down?"
Whoopi Goldberg interjected, "They used to arrest people for doing stuff like this. If they thought you were colluding with a Russian agent…They used to actually investigate stuff like this. And I guess now there seems to be no bars."
Do you think the DOJ should investigate Carlson and Gabbard?
Carlson has been accused of making pro-Russia comments, and reports indicate that Russian state media has played clips of his show. Meanwhile, Gabbard has been criticized for spreading debunked claims that the U.S. is funding biolabs researching deadly pathogens in Ukraine.
Truth and Accuracy
We are committed to truth and accuracy in all of our journalism. Read our editorial standards.
Comment Down Below
Conversation