Commentary
WaPo Bizarrely Claims GOP Treated Biden's SCOTUS Nominee Worse Than Dems Treated Kavanaugh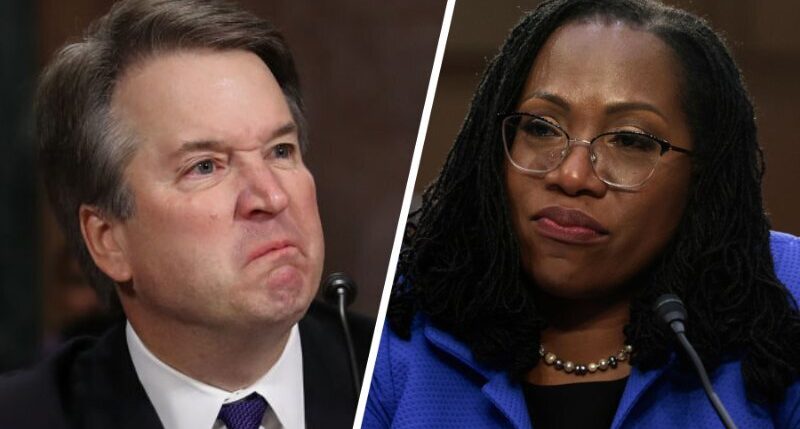 The Washington Post's editorial board has a strange view of Senate Republicans' behavior during Judge Ketanji Brown Jackson's confirmation hearings that appears to be rather untethered from the historical record.
"Throughout her Senate confirmation hearings, Judge Ketanji Brown Jackson has been a model of composure, which is made all the more impressive by the egregious behavior of some on the Republican side," the board wrote in an editorial on Wednesday.
It continued, "During the hearings, Republicans such as Sen. Lindsey O. Graham (S.C.) have congratulated themselves for declining to treat Judge Jackson the way Democrats handled the nomination of Brett M. Kavanaugh. In fact, by the most relevant measures, Mr. Graham and a handful of other Judiciary Committee Republicans have handled themselves worse."
Advertisement - story continues below
Republicans boast they have not pulled a Kavanaugh. In fact, they've treated Ketanji Brown Jackson worse, the Editorial Board writes https://t.co/HS2NOlmeFT

— Washington Post Opinions (@PostOpinions) March 24, 2022
The Post went on to claim a "woman credibly accused Mr. Kavanaugh of sexual assault" and that "it was Mr. Kavanaugh who behaved intemperately, personally attacking Democratic senators and revealing partisan instincts that raised questions about his commitment to impartiality."
"By contrast, Republicans have smeared Judge Jackson based on obvious distortions of her record and the law. Mr. Graham and others painted her as a friend of child pornographers, despite the fact that her sentences in their cases reflect the judicial mainstream," the editorial argued.
It also accused Sen. Marsha Blackburn (R-Tenn.) of "assailing those concerned about transgender people" and noted that Sen. Ted Cruz (R-Texas) "attacked Judge Jackson for sitting on the board of Georgetown Day School, a D.C. private school, because he disapproves of its anti-racism curriculum, which Judge Jackson has never endorsed."
Advertisement - story continues below
However, the Post's assessment of Republicans' behavior wasn't all bad.
It noted that Sen. Ben Sasse (R-Neb.) "questioned her respectfully on the originalist philosophy of judicial interpretation." Meanwhile, Sen. Chuck Grassley (R-Iowa) "congratulated the Democrats on running a fair hearing."
Do you think Republicans are treating Jackson worse?
But, the editorial board claims "their colleagues' antics distracted from their more productive questioning" and "what should have been the order of the day: recognizing the historic nomination of the first Black woman to sit on the Supreme Court."
You can question whether the Republicans are making good use of their time and if they are asking Jackson serious questions about her record. But they are not trying to attack her character or destroy her name as Democrats did to Supreme Court Justice Brett Kavanaugh.
Kavanaugh faced several allegations of sexual assault from his high school years that only surfaced after he was nominated to the Supreme Court, not during his ascent as a judge. He also faced a question from Sen. Amy Klobuchar (D-Minn.) about his drinking habits.
Advertisement - story continues below
His confirmation process additionally included claims that he committed perjury and questions about his temperament after he delivered an emotional response to the sexual assault allegations.
Then there were the protests, featuring people dressing up as though they were in "The Handmaid's Tale," during his confirmation hearings.
Even "Spartacus" — Sen. Cory Booker (D-N.J.) — told Fox News that "everything has been well within the bounds" during Jackson's hearings.
If members of the Post's editorial board think Republicans' behavior is worse than the treatment Kavanaugh received from Democrats, perhaps they should re-watch the hearings to refresh their memories.
Truth and Accuracy
We are committed to truth and accuracy in all of our journalism. Read our editorial standards.
Comment Down Below
Conversation