News
White House Slams Manchin Over BBB: Betrayed 'Commitments' to Biden and Colleagues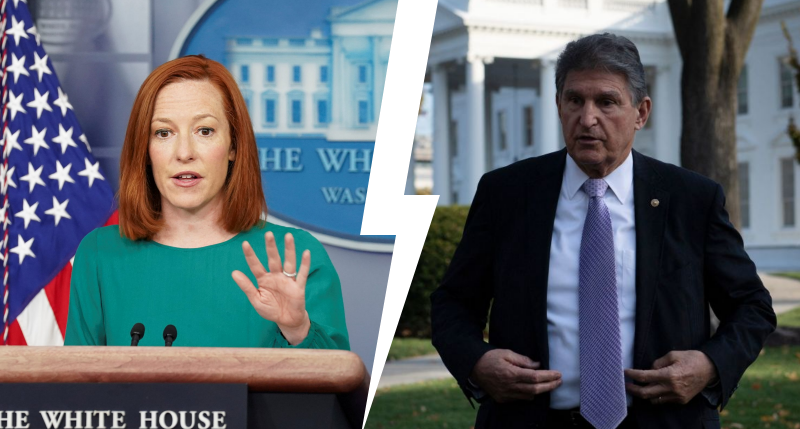 White House Press Secretary Jen Psaki issued a blistering statement after Sen. Joe Manchin (D-W. Va.) came out in opposition to President Joe Biden's nearly $2 trillion Build Back Better Act — killing the bill in its current form.
In a statement on Sunday, Psaki said, "Senator Manchin's comments this morning on FOX are at odds with his discussions this week with the President, with White House staff, and with his own public utterances."
"Weeks ago, Senator Manchin committed to the President, at his home in Wilmington, to support the Build Back Better framework that the President then subsequently announced. Senator Manchin pledged repeatedly to negotiate on finalizing that framework 'in good faith,'" she continued.
Advertisement - story continues below
She went on to say that on Tuesday, Manchin gave Biden a "written outline" for the spending package "that was the same size and scope as the President's framework, and covered many of the same priorities."
Psaki said the outline from the West Virginia senator was "missing key priorities," but she said administration officials thought they could reach a "compromise acceptable to all."
"Senator Manchin promised to continue conversations in the days ahead, and to work with us to reach that common ground. If his comments on FOX and written statement indicate an end to that effort, they represent a sudden and inexplicable reversal in his position, and a breach of his commitments to the President and the Senator's colleagues in the House and Senate," she charged.
While the press secretary acknowledged that Manchin has raised concerns that the bill would fuel inflation, she pointed out that the Penn Wharton Budget Institute predicts that the package would "have virtually no impact on inflation in the short term, and, in the long run, the policies it includes will ease inflationary pressures."
Advertisement - story continues below
Psaki claimed that Manchin's concerns that the bill would add to the deficit are unfounded. She also said his concerns about provisions designed to combat climate change are "wrong."
"Just as Senator Manchin reversed his position on Build Back Better this morning, we will continue to press him to see if he will reverse his position yet again, to honor his prior commitments and be true to his word," she added.
Do you think Manchin should have supported the bill?
Finally, Psaki said, "The fight for Build Back Better is too important to give up. We will find a way to move forward next year."
On Sunday, Manchin sunk Democrats' hopes of passing their massive spending bill in its current form.
"I have always said, 'If I can't go back home and explain it, I can't vote for it.' Despite my best efforts, I cannot explain the sweeping Build Back Better Act in West Virginia and I cannot vote to move forward on this mammoth piece of legislation," he said in a statement.
Advertisement - story continues below
The West Virginia senator once again reiterated his concerns that the bill would add to the deficit and that Democrats are trying to "camouflage the real cost of the intent behind this bill."
"I cannot take that risk with a staggering debt of more than $29 trillion and inflation taxes that are real and harmful to every hard-working American at the gasoline pumps, grocery stores and utility bills with no end in sight," he added.
Democrats were hoping to use a process known as budget reconciliation to pass the bill, which would have required all 50 Democrats to vote for it with Vice President Kamala Harris casting the tie-breaking vote.'
Without Manchin's vote, the bill would fail to pass the chamber.
Truth and Accuracy
We are committed to truth and accuracy in all of our journalism. Read our editorial standards.
Comment Down Below
Conversation