News
Whitmer Claims Conservative Media's Support of Canadian Truckers Is 'Downright Dangerous'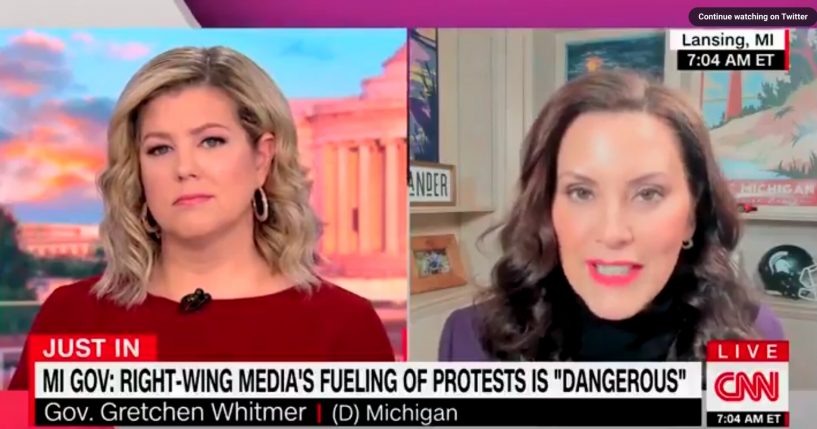 Michigan Gov. Gretchen Whitmer (D) is claiming that conservative media's support of Canadian truckers protesting COVID-19 restrictions is "unhelpful" and "dangerous."
CNN's Brianna Keilar claimed on Friday that "right-wing media" is "really fueling" the truckers' protests. She then played a series of clips from Fox News of hosts talking up the protests and asked Whitmer, "What is your response to that encouragement?"
"We cannot incite and encourage people to break the law. Especially when it means they're throwing other Americans out of work and creating an economic crisis that we were just recovering from," Whitmer said.
Advertisement - story continues below
She continued, "They're inciting and encouraging people to break the law and to do so in a way that devastates so many hard-working people…This is five days, and it's already taken a toll of tens of billions of dollars — that number compounds over time."
"And any encouragement for people to replicate this and break the law and devastate our economy is not just devastating to our national bottom line but to individual households…It's incredibly unhelpful and downright dangerous," she added.
Watch the video below:
Mich. @GovWhitmer: "Downright dangerous" how conservative media is supporting #TruckersConvoy pic.twitter.com/FGkC8JEKiO

— Tom Elliott (@tomselliott) February 11, 2022
Advertisement - story continues below
Three border crossings between the U.S. and Canada have been blocked by Canadian truckers who are protesting COVID-19 vaccine mandates.
Prime Minister Justin Trudeau decried the blockade as he said it was "hurting jobs, businesses, and our country's economy."
The protests have had an impact on the U.S. auto industry as several factories are facing shortages of parts from Canada.
"It is a mess," Carla Bailo, the CEO of the Center for Automotive Research, or CAR, a nonprofit research group, told NBC News.
She added, "What we're seeing is that the plants in Canada are really getting strangled first. Then the plants in the U.S. relying on engines and transmissions will be hurt next."
Truth and Accuracy
We are committed to truth and accuracy in all of our journalism. Read our editorial standards.
Comment Down Below
Conversation