News
Whoopi Goldberg Calls House Republicans 'Domestic Terrorists'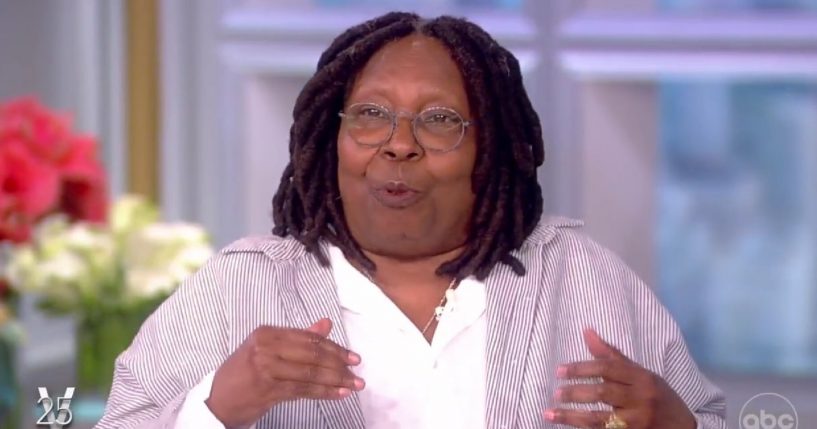 "The View" co-host Whoopi Goldberg went off on Republicans over their opposition to the Domestic Terrorism Prevention Act.
During an episode of the show Thursday, Goldberg played a series of clips of comments from Reps. Jim Jordan (R-Ohio), Matt Gaetz (R-Fla.) and Jerry Nadler (D-N.Y.).
"We don't give cover to anything. White nationalism is wrong, we've always said so, everyone knows that," Jordan said.
Advertisement - story continues below
He added, "But I'll tell you who does give cover, when the chairman of the Judiciary Committee says Antifa is a myth, that is giving cover."
Joy Behar responded, "Antifa, what an idiot."
Goldberg asked, "When did Washington really get to be a place where stopping domestic terrorism is divisive?"
Behar replied, "I guess when they're part of the problem."
Advertisement - story continues below
Goldberg added, laughing, "When the domestic terrorists are voting on the bill."
Sunny Hostin later suggested "there is no way" those in the Republican Party, especially those in the extreme right-wing of the party would support the bill because it "exposes the party for what it is: The party of insurrectionists, the party that welcomes White supremacists under its tent."
Should more Republicans have supported the bill?
Goldberg replied, "I thought everybody was against White supremacy."
Hostin responded, "It's hard to take a stand against it when those are your voters."
Check out their comments below:
Advertisement - story continues below
LONE REPUBLICAN SUPPORTS DOMESTIC TERROR BILL: Following the Buffalo supermarket shooting, the House passed a bill to aid fight against domestic terrorism – #TheView panel questions why lawmakers couldn't compromise. https://t.co/KwJQw6ywg4 pic.twitter.com/zZqkagoA4z

— The View (@TheView) May 19, 2022
The bill seeks to create domestic terrorism offices throughout the government, as The Hill reported.
Rep. Adam Kinzinger (R-Ill.) was the only Republican to vote in favor of the bill.
House Majority Leader Steny Hoyer (D-Md.) cited the January 6 riot at the U.S. Capitol as the reason for the bill.
Advertisement - story continues below
"I know, as I believe every member of this house knows, that extremist violence can reach anyone, anytime, anywhere, whether it be a place of worship, a grocery store or, as we learned last year, this very hall," Hoyer said.
Truth and Accuracy
We are committed to truth and accuracy in all of our journalism. Read our editorial standards.
Comment Down Below
Conversation