News
Winsome Sears to Become the First Female and Woman of Color to Serve As Virginia Lieutenant Governor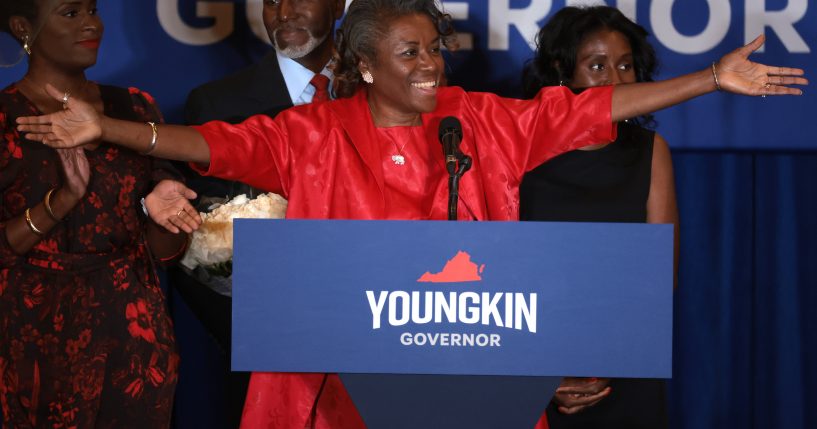 Winsome Sears will make history, becoming the first female and woman of color to serve as Virginia's next lieutenant governor.
According to CNN, Sears, a conservative Republican, is projected to win over Democrat Del. Hala Ayala. The outlet noted Ayala is also a woman of color.
As CNN reports, "Sears, who was born in Jamaica, is the first Black Republican woman to be elected to the Virginia General Assembly, representing the 90th district from 2002 for one term."
Advertisement - story continues below
She told a crowd of supporters early Wednesday, "It's a historic night — yes, it is — but I didn't run to make history. I just wanted to leave it better than I found it."
When asked about the significance of being the first woman of color to serve as lieutenant governor, Sears told CNN, "There is no Census Bureau category called 'of color.' I am Black. Virginians are ready for strong, principled and sensible leaders who will serve them — no matter one's color."
Sears is not the only minority to make history on election night.
Michelle Wu defeated fellow Democratic City Councilor Annissa Essaibi George to become the first woman and candidate of color to be elected as mayor of Boston, as NPR reports.
Advertisement - story continues below
Pittsburgh also elected the city's first Black mayor, Ed Gainey. Democrat Eric Adams was chosen as New York City's second Black Mayor.
Aftab Pureval was elected as Cincinnati's first Asian American mayor while Dearborn, Michigan, elected Abdullah Hammoud as its first Arab-American and Muslim mayor.
Tyrone Garner unseated one-term incumbent David Alvey to become the first Black mayor of Kansas City, Kansas. Alvin Bragg became the first Black person to serve as Manhattan's District Attorney.
Winsome will serve alongside Republican Glenn Youngkin. Youngkin defeated Terry McAuliffe to win the Virginia governor's race, as IJR reported.
"Let's climb that hill together. Let's reinvigorate our future, let's reinvigorate this amazing commonwealth of Virginia. Together, together, together, together we can build a new day, a new day for Virginians where yes, we soar and we never settle," Youngkin said during his victory speech.
Truth and Accuracy
We are committed to truth and accuracy in all of our journalism. Read our editorial standards.
Comment Down Below
Conversation