News
WNBA Player Brittney Griner Sentenced by Russia For Drug Possession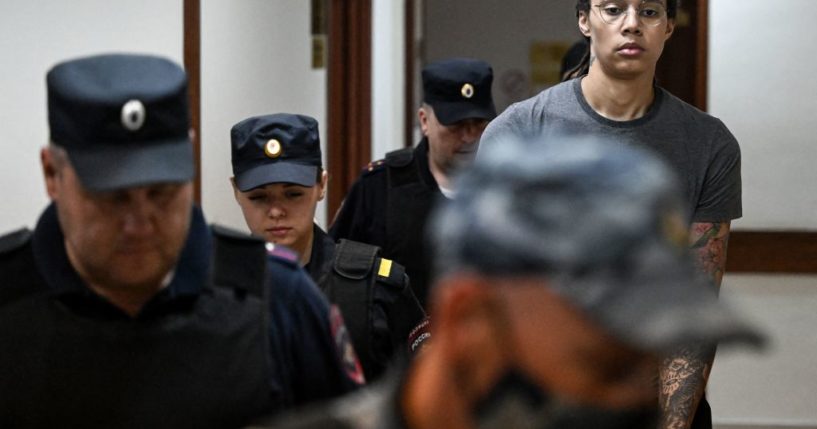 American basketball player and Olympic gold medalist Brittney Griner was sentenced to 9 years in prison by Russian officials after pleading guilty to a drug charge last month.
A Russian court convicted Griner of drug possession and drug smuggling as well as levying a fine of 1 million rubles, or about $16,400, against the basketball player, according to Fox News.
The 31-year-old Olympic athlete issued an apology before the verdict and sentencing where prosecutors pushed for a 9.5-year sentence: "I want to apologize to my teammates, my club, my fans and the city of (Yekaterinburg) for my mistake that I made and the embarrassment that I brought on them," she said according to Fox News.
Advertisement - story continues below
"I want to also apologize to my parents, my siblings, the Phoenix Mercury organization back at home, the amazing women of the WNBA, and my amazing spouse back at home."
Griner continued, saying that bringing vape cartridges containing cannabis oils was "an honest mistake" and said, "I hope in your ruling it does not end my life."
The player also called Yekaterinburg her "second home," talking about the positive experiences she has had there playing with the Russian basketball team, UMMC Ekaterinburg.
"I had no idea that the team, the cities, the fans, my teammates would make such a great impression on me over the 6 1/2 years that I spent here. I remember vividly coming out of the gym and all the little girls that were in the stands there waiting on me, and that's what kept making me come back here," Fox News reported that Griner said.
Advertisement - story continues below
President Joe Biden spoke out against the decision saying, "Today, American citizen Brittney Griner received a prison sentence that is one more reminder of what the world already knew: Russia is wrongfully detaining Brittney," in a statement according to Fox News. 
"It's unacceptable, and I call on Russia to release her immediately so she can be with her wife, loved ones, friends, and teammates.  My administration will continue to work tirelessly and pursue every possible avenue to bring Brittney and Paul Whelan home safely as soon as possible."
United States Secretary of State Antony Blinken previously said that the Biden administration offered a "substantial proposal" for the return of Griner as well as another American held by Russia, Paul Whelan.
The administration did not elaborate on what that proposal might have been but according to Fox News, Russian media speculated that the trade might have been for Russian arms dealer Viktor Bout, also known as the "Merchant of Death."
Bout is currently serving a 25-year sentence in the U.S. after a conviction for conspiracy to kill U.S. citizens and providing aid to a terrorist organization.
Advertisement - story continues below
No specifics were offered, but according to Fox News, White House press secretary Karine Jean-Pierre spoke about the negotiations on Monday, telling reporters that Russia made a "bad faith" response to the Biden administration's offer.
Truth and Accuracy
We are committed to truth and accuracy in all of our journalism. Read our editorial standards.
Comment Down Below
Conversation