News
'I Wouldn't Be Anywhere in My Life Without Her' John Krasinski Gushes Over Wife Emily Blunt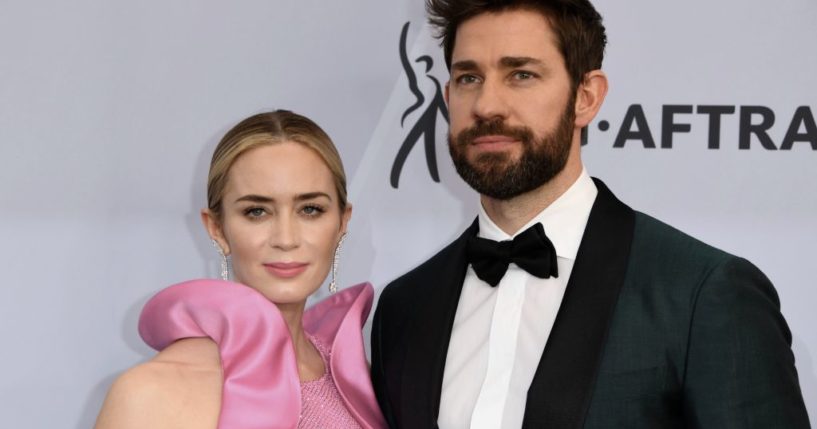 Actor John Krasinski credited wife, actress Emily Blunt, for helping him get to where he is.
In an exclusive interview with Parade on Wednesday, Krasinski lovingly spoke about his wife of 12 years.
"I wouldn't be anywhere in my life without her. On a daily basis, but certainly in a career-wise, as a dad, she pushes me to be better every single day at everything I do. So I look forward to the next day cause I know it'll be better than the one before," he said.
Advertisement - story continues below
In 2011, Krasinski appeared on "The Ellen Show" and revealed that he knew Blunt was the one when he met her.
"It was one of those things where I wasn't really looking for a relationship and I was thinking I'm going to take my time in L.A.," he said. "Then I met her and I was so nervous. I was like, 'Oh God, I think I'm going to fall in love with her.' As I shook her hand I went, 'I like you.'"
In our exclusive interview, #JohnKrasinski shares that season 3 of @JackRyanPV is well worth the wait, saying, "We wanted to make it something that was big and really exciting for the fans to come back to." @PrimeVideo @johnkrasinski #JackRyanhttps://t.co/q0VvXOOQZP

— Parade Mag (@ParadeMagazine) December 21, 2022
Mark 10:9 says, "Therefore what God has joined together, let man not separate."
Advertisement - story continues below
In an interview with People in 2020, Krasinski spoke about the success of their relationship.
"It's really that we just got lucky," he said. "It's one of those things, I'm having more fun now than the day I met her, and it's pretty wild. I don't know the formula to it, but I think she's hilarious, extremely talented, and I'm definitely her No. 1 fan."
In 2013, Blunt spoke with InStyle and expressed her love for Krasinski and explained how meeting him changed her life.
"Meeting John really changed my life. When I feel the support that I have from him, I feel invincible. There's someone behind you on your good days and someone in front of you on your bad days," she said.
Together, the couple share two daughters, eight-year-old Hazel and six-year-old Violet.
Truth and Accuracy
We are committed to truth and accuracy in all of our journalism. Read our editorial standards.
Comment Down Below
Conversation