News
Zelenskyy Urges Congress to Remember Pearl Harbor and 9/11 in Plea for Help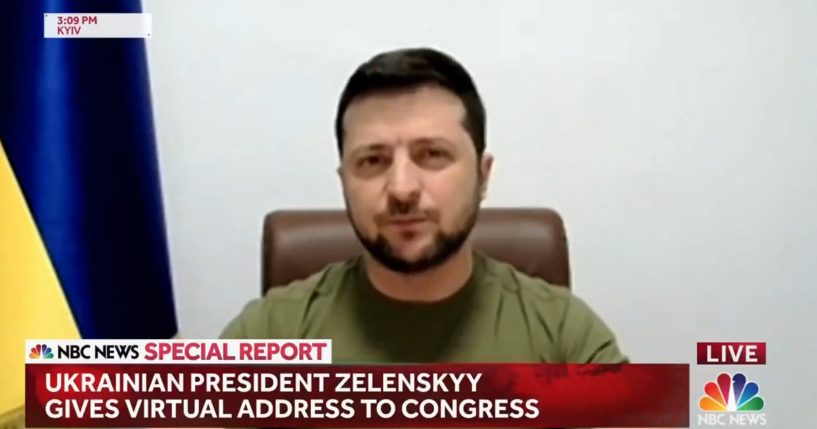 Ukrainian President Volodymyr Zelenskyy reminded Congress of the devastation caused by Pearl Harbor and 9/11 as he pleaded for more help amid Russia's invasion of his country.
"Remember Pearl Harbor, the terrible morning of December 7, 1941, when your sky was black from the planes attacking you," Zelenskyy said in his address to Congress on Wednesday. "Remember September 11, a terrible day in 2001 when evil tried to turn your cities, independent territories, into battlefields. When innocent people were attacked from the air."
He continued, "Our country is experiencing the same every day, right now, at this moment. Every night for three weeks now … Russia has turned the Ukrainian sky into a source of death for thousands of people."
Advertisement - story continues below
Zelenskyy went on to question whether it is "a lot to ask" for a no-fly zone over Ukraine.
Additionally, he addressed President Joe Biden, saying, "I wish for you to be the leader of the world," adding, "Being the leader of the world means to be the leader of peace."
Watch his remarks below:
Ukraine President Zelenskyy to U.S. Congress:

"Remember Pearl Harbor … Remember Sept. 11 … Our country experiences the same every day."https://t.co/uex1h1xJc2 pic.twitter.com/Wkl71CS4Gq

— NBC News (@NBCNews) March 16, 2022
Advertisement - story continues below
Zelenskyy also invoked Martin Luther King Jr., adding, "I have a dream."
He continued, "These words are known to each of you. Today, I can say I have a need. A need to protect our sky. I need your decision, your help, which means exactly the same. The same you feel when you hear the words, I have a dream."
Fox News noted the president is expected to announce an additional $800 million in military aid for Ukraine on Wednesday. This is in addition to $200 million announced over the weekend.
According to the outlet, Biden is scheduled to join a European Council Summit to discuss "shared concerns about Ukraine, including transatlantic efforts to impose economic costs on Russia, provide humanitarian support to those effected by the violence, and to address other challenges related to the conflict."
White House Press Secretary Jen Psaki said the "real focus right now is to meet with NATO partners in Brussels,"
Truth and Accuracy
We are committed to truth and accuracy in all of our journalism. Read our editorial standards.
Comment Down Below
Conversation