Commentary
AOC Whines About Sam Bankman-Fried Getting Arrested a Day Before His House Testimony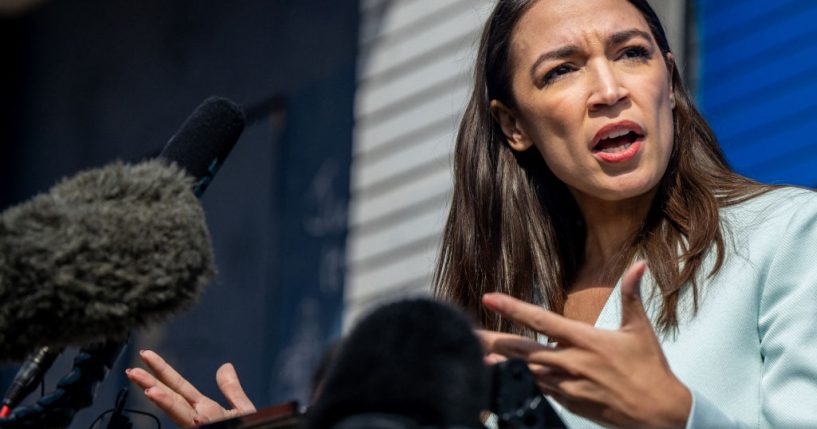 Rep. Alexandria Ocasio-Cortez (D-N.Y.) is not happy the Department of Justice deprived her chance for another viral moment during a Congressional hearing.
On Monday, Sam Bankman-Fried, the founder of failed cryptocurrency exchange FTX, was arrested in the Bahamas at the request of the prosecutors in the U.S. It comes as officials are investigating the collapse of FTX and the trading firm Alameda.
But unfortunately for some members of Congress, the arrest disrupted their plans to go viral for their grilling of Bankman-Fried during a hearing. Ocasio-Cortez posted a video on Instagram bemoaning the timing of his arrest.
Advertisement - story continues below
"Sometimes serving in Congress means that you spend an enormous amount of time and energy preparing a major line of questions for let's say for example a crypto billionaire that may or may not have misused a very large degree of funds," she said.
She continued:
"And you're working, working, working, and you're having breakthroughs in the case, and you're developing a really strong line of questioning. And then the night before your hearing, your witness gets arrested. It's like, you ever really put so much energy into planning something and then it doesn't work out? Thems the breaks."
Still, Ocasio-Cortez voiced optimism that the arrest will be a step toward justice for those who were "deeply, deeply harmed."
Advertisement - story continues below
Watch the video below:
"You spend an enormous amount of time and energy preparing a major line of questioning for … a crypto billionaire … and then the night before your hearing your witness gets arrested … Them's the breaks."

— Rep. @AOC (D-NY) on the arrest of FTX founder Sam Bankman-Fried pic.twitter.com/icxee59lFV

— The Recount (@therecount) December 13, 2022
Do you think the timing of his arrest is odd?
The incident which led to the hearing being scheduled — FTX filing for bankruptcy — happened over a month ago. And Bankman-Fried, a major Democratic donor, then found himself the target of investigations by the Securities and Exchange Commission and the Justice Department.
The New York Times explains the bankruptcy was triggered by a "run on deposits" that left FTX with "an $8 billion shortfall." And there are questions about whether "FTX improperly used billions of dollars of customer funds to prop up a trading firm that he also founded, Alameda Research."
Reuters also points out more than $1 billion of customers' funds vanished.
Advertisement - story continues below
And with investigations and questions of impropriety swirling, Bankman-Fried apparently did not mind speaking out and giving interviews — probably much to his lawyer's chagrin. Congress could have tried to force him to testify, but it didn't. Bankman-Fried instead agreed to testify remotely.
The timing of his arrest does seem interesting. It is not as though his decision to testify was a secret that prosecutors could have no way of knowing about. However, we have no idea what went into their decision to arrest Bankman-Fried at this time.
Still, Ocasio-Cortez's comments highlight part of the problem of Congress. Lawmakers could have taken action to pass legislation to protect cryptocurrency investors and impose some regulations on the industry — even some cryptocurrency supporters in Congress have acknowledged the need for some more regulation — but they didn't.
Now that something went wrong, lawmakers want their chance to go viral grilling an alleged billionaire fraudster so they can look tough for their constituents and wind up on TV.
Advertisement - story continues below
And yes, it must be annoying to spend time coming up with questions only to not be able to ask them. But Congress can't be too mad at prosecutors for taking action when it fails to act itself.
Truth and Accuracy
We are committed to truth and accuracy in all of our journalism. Read our editorial standards.
Comment Down Below
Conversation