News
'Go Get Them': Sen. Ben Sasse Rips Biden for 'Naively Hoping' Taliban Will Provide Safe Passage for Americans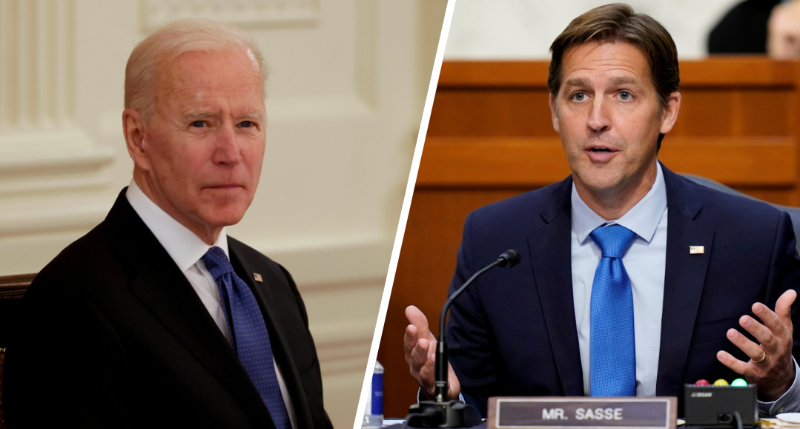 Sen. Ben Sasse (R-Neb.) is demanding President Joe Biden direct U.S. forces in Afghanistan to do more than rely on the assurances of the Taliban that Americans will have safe passage to the Kabul airport so they can be evacuated.
In a statement on Thursday, Sasse said, "Mr. President, wake up and lead. Your denial that Afghanistan will be back under Taliban rule on the upcoming 20th anniversary of 9/11 is bizarre. You're still engaging in evasion, denial of reality, blame-shifting, false dichotomies, and delusional happy talk."
"You seem unable or unwilling to condemn the Taliban for just about anything, but very eager to criticize Afghans who fought with us against a common enemy. Take responsibility and lead," Sasse continued.
Advertisement - story continues below
Finally, the Nebraska senator said, "Dishonor is a choice. Naively hoping the Taliban gives Americans and our allies safe passage to Kabul's airport is not a plan — it's a hostage situation. We have better options. Give American troops the power to push back the airport perimeter and create safe, American-controlled corridors to the airport. We cannot wait for Americans to find their own way. Go get them. It's the duty of the commander-in-chief."
Read the statement below:
President Biden: We cannot wait for Americans to find their own way. Go get them. It's the duty of the commander-in-chief. pic.twitter.com/uvBXKR7NYg

— Senator Ben Sasse (@SenSasse) August 19, 2021
Gen. Frank McKenzie, the commander of U.S. troops in Kabul, Afghanistan, negotiated a deal with the Taliban to provide safe passage to Americans and U.S. allies to the airport so they can be evacuated from the country.
Advertisement - story continues below
But earlier this week, Americans in Afghanistan were sent a memo that said the U.S. "cannot guarantee" their safety as they make their way to the airport.
On Wednesday, Defense Secretary Lloyd Austin told reporters the U.S. will evacuate as many Americans it "can." However, he said forces cannot "go out and collect large numbers of people."
Should U.S. troops "go get" Americans in Afghanistan?
"We're gonna get everyone that we can possibly evacuate evacuated, and I'll do that as long as we possibly can, until the clock runs out, or we run out of capability," Austin said, adding, "I don't have the capability to go out and extend operations currently into Kabul."
As of Wednesday, there were an estimated 10,000 to 15,000 Americans still in Afghanistan.
Biden told ABC News on Wednesday that the U.S. will stay in Afghanistan until all Americans are evacuated, even if that means missing an Aug. 31 deadline.
Truth and Accuracy
We are committed to truth and accuracy in all of our journalism. Read our editorial standards.
Comment Down Below
Conversation