News
Biden Addresses Hecklers at McAuliffe Rally: 'Talk to Me When This Is Over'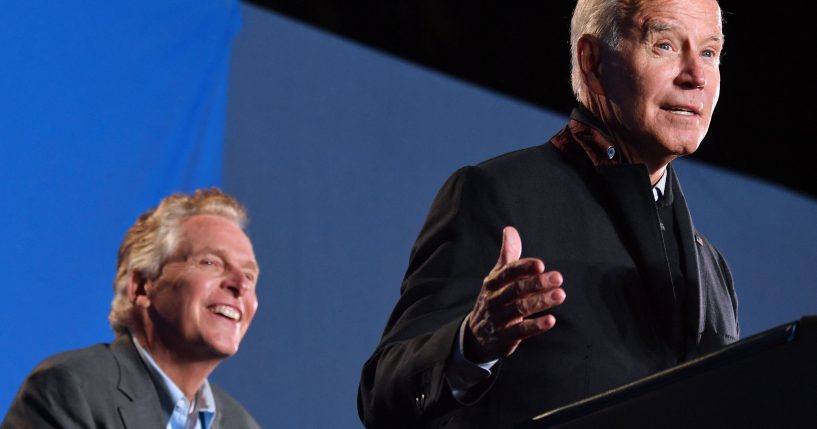 President Joe Biden told hecklers at a rally for Virginia Democratic gubernatorial nominee Terry McAuliffe to "hang out" and talk to him when it is over.
Biden spoke in Arlington, Virginia Tuesday night where he was met with support and some opposition.
"That's all right, let 'em go. Let 'em go, that's okay," Biden said. "Why don't you hang out and talk to me after this is over, okay?"
Advertisement - story continues below
He continued, "That's right, this is not a Trump rally, we let 'em holler, we let 'em holler."
Watch the video below:
President Biden to hecklers at McAuliffe rally: "Why don't you hang out and talk to me when this is over!"

— Breaking911 (@Breaking911) October 27, 2021
According to the New York Post, Biden mentioned Trump's name 24 times during his speech that lasted 17 minutes.
Advertisement - story continues below
He suggested McAuliffe is "running against an acolyte of Donald Trump," adding, "[Youngkin] doesn't like to talk about it very much now, but to win the Republican nomination, he embraced Donald Trump."
The president questioned why Youngkin will not allow Trump to campaign for him.
"He's willing to pledge his loyalty to Trump in private, why not in public? What's he trying to hide? Is there a problem with Trump being here? Is he embarrassed?" Biden said.
The Post noted Trump has not campaigned for McAuliffe's opponent.
Youngkin told Fox News on Monday McAuliffe is bringing in big names to campaign for him to "try to take the spotlight off of his failed record, his failed policies."
Advertisement - story continues below
Former President Barack Obama (D) campaigned for McAuliffe over the weekend, taking a swipe at Youngkin.
"As far as I can tell, the big message of Terry's opponent is that he's a regular guy because he wears fleece and he's accusing schools of brainwashing our kids," Obama said.
He continued, "He's also said he wanted to audit the voting machines used in the last presidential election again. Really? Encouraging the lies and conspiracy theories that we've had to live through all this time? And yet we're supposed to believe he's going to stand up for our Democracy?"
Truth and Accuracy
We are committed to truth and accuracy in all of our journalism. Read our editorial standards.
Comment Down Below
Conversation